On Friday, March 10, 2023, the Hot Springs Village Anglers Club, in conjunction with the HSVPOA Lakes Management and Parks and Recreation, presented a new and revised fishing seminar at the Coronado Community Center.
In addition to facilitating the event, Don Langston also gave an introduction to the HSV Anglers Club. The Anglers have a seminar every year, as well as sponsoring The Stars and Stripes Kids Fish Derby (held during the 4th of July celebration), a Team Tournament, and Military Fishing Day.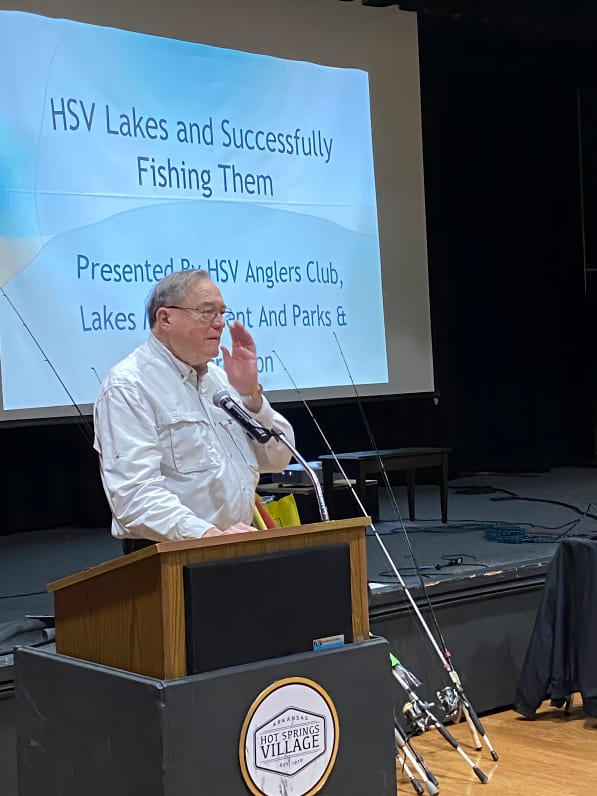 Furthermore, the club assists with fish habitat installation and donates funds to improve lake access docks and fishing piers.
The purpose of the HSV Anglers Club is to promote fellowship through fishing. "We have tournaments, but they are laidback. There are no entry fees. Just fishing for bragging rights. You do not have to have a boat to participate," said Langston.
Presentations were given by Don Langston, Bill Goodwin, Dave Keith, Bob Brannan, and Todd Noles, HSVPOA Superintendent Common Property, Forestry, Lakes, and Dams.
Trent Cole and Jack Wohlfarth manned the attendee sign-in table.
Fishing-related door prizes, valued at hundreds of dollars, were awarded throughout the session.
The HSV Anglers Club meets on the first Tuesday of each month at 7:00 PM in Room 6 of the Coronado Community Center, located at 150 Ponderosa Lane, Hot Springs Village.
Click here to visit the HSV Anglers website.
Click here and scroll down to contact the HSV Anglers.
Hot Springs Village Anglers Club Fishing Seminar PowerPoint Presentation
By Cheryl Dowden; Photography and Videography by Joe Dowden