Reflections From History And Faith
By Jeff Olson
As we move further into the Christmas season, our lives take on attitudes, priorities, and activities commensurate with what has been called "The Most Wonderful Time of Year." A part of this includes the music of the season, and without a doubt, practically all of us have our own personal favorites. Some are faith-based, some are inspirational, some are sentimental, some are festive, some are humorous, and some may be a combination thereof. Preparation for our Christmas celebration and even the celebration itself are often flavored by these songs and the memories they bring back to life. Even those songs we don't particularly like may have a role in this journey. "Grandma Got Run Over By a Reindeer" is one that comes to mind, though many of us still find the humor in this seasonal ditty.
Sometimes the stories behind these songs contribute to their special place in our Christmas experience and perhaps our relationships as well. Some of these stories may never come to light for many of us, so what I hope to do is help that along for at least a few songs this year and for those of you who may be interested.
Today, our story begins in Wisconsin in 1944, when 18-year-old Frank composed a Christmas love song for his high school sweetheart. The two were spending the holiday apart, so Frank's lyrics expressed his longing to be with her during the special season of Christmas. Like many teenage relationships, this one faded, and their relationship ended before he was able to present his special Christmas gift to her. Still, Frank held on to his song and even had it published and recorded but never distributed. Now, let me say this before I go any further. Frank was not just your ordinary smitten young man on the verge of love…or maybe in the midst of it. He was also not just a young man who liked music. In 1943, while still a high school student, Frank founded and directed the first children's choir at the First (Norwegian) Lutheran Church.
As you might expect, Frank went on to a career in music, and what a career it was! His work with Scandinavian composers in Norway, Sweden, and Denmark resulted in the English publication of more than 100 Scandinavian choral works. In 1955, he was named a Fellow of the American-Scandinavian Foundation. He served as the music director at the First Baptist Church in Albert Lea, Minnesota, earned a Master's Degree at the University of Iowa, worked at Shimer College in Chicago, and did a brief stint at New Trier High School in Chicago. In 1959, he headed west to work at California State University, Long Beach, where he would go on to establish the Department of Choral Music and teach there for 28 years before retiring in 1988.
In the mid-1960s, two of Frank's talented students/choir members at California State performed on the side locally at various venues during the Christmas season. While the standard Christmas songs they did were well received, the pair wanted to expand their repertoire and try some new material. Not sure where else to turn for ideas, they consulted with their favorite professor. It was then and there that Frank remembered the Christmas song he had written many years before and mentioned it to one of the students with the suggestion that he give the lyrics a better musical setting than the one he had written himself. So, Richard did just that, and in less than a half hour, he created a song written by two teenagers a generation apart that was destined to become a Christmas classic. Thanks to the lyrics of Frank Pooler in 1944, the music of Richard Carpenter in 1966, and the smooth and pure voice of Karen Carpenter in 1970, we have "Merry Christmas, Darling" by the Carpenters.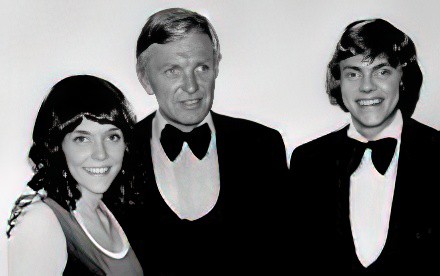 The single was released on November 20, 1970, and went straight to #1 on Billboard's Christmas charts. It would return to that spot again in 1971 and 1973. The song earned gold record status and inspired the idea for a Christmas album by The Carpenters. On October 13, 1978, "Christmas Portrait" was released with a newly recorded version of "Merry Christmas, Darling." This new version was presented on their TV Christmas special, which aired on ABC on December 19, 1978, and became a hit all over again.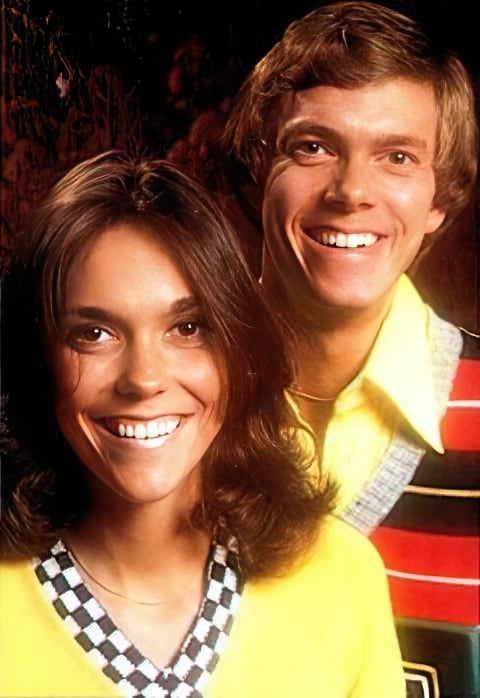 So, whatever happened to the young lady for whom Frank wrote his special song back in Wisconsin in 1944? Fifty-eight years later, in 2002, he decided to look her up, and he found her not far away in Palm Springs. He arranged to meet, where he informed her that she had been his muse, his inspiration. She responded, "Now I have a treasure." A treasure over twenty-five years in the making and the legacy of one man's tender heart which continues to bring joy and love to the Christmas season for millions after nearly eighty years.
Cover Image: Photo of Frank Pooler conducting a choir practice; Courtesy of Wikipedia
The Carpenters – Merry Christmas Darling – From their TV Special "Christmas Portrait"