Drone Spraying Hot Springs Village Dams May 2023 (photo courtesy of CPFWC Chair Anne Shears)
Hot Springs Village residents are asked to avoid walking on the dams today (Tuesday, May 23, 2023)
Village dams are being sprayed today to fulfill our legal requirements with the Arkansas Natural Resource Commission. Dam maintenance is very important to the safety of the whole area and is scrutinized by the ANRC. Penalties can be high, with fines of up to $50,000 for improperly maintained dams.
Dam Superintendent Todd Noles said, "This spraying is a way to control vegetation on our dams and spillways. This vegetation must be maintained as it is inspected yearly by the Arkansas Natural Resource Commission."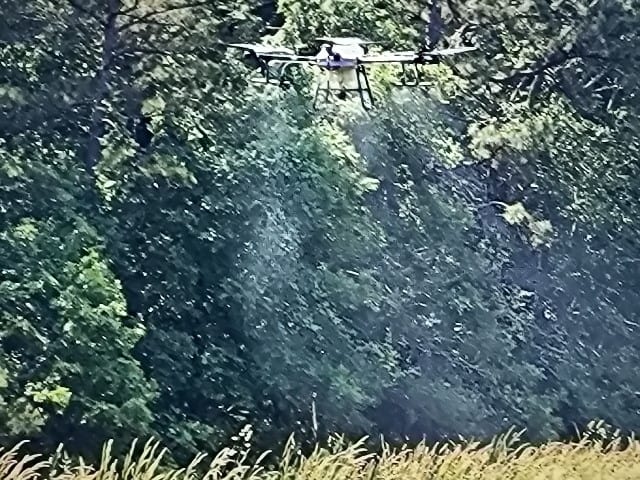 In the past, some dam surfaces were mowed or hand sprayed. The chemical application by drone is in place of the mowing and hand spraying process and is being done to eliminate problems and maintain the dam more safely and efficiently. Mowing the dams causes rutting and this is a violation of dam maintenance requirements. The icing is that the drone spraying process saves us $25,000 over mowing costs.
Noles shared, "The back side of the dams are being sprayed with a chemical to eliminate broadleaf (trees) while at the same time making grass growth dormant. The grass may have a yellowish tint for a few weeks and then turn green again."
"The front side of the dams and spillways are sprayed to eliminate all growth with an aquatically safe herbicide," added Noles.
By Cheryl Dowden