Reflections from History and Faith
By Jeff Olson
Have you ever reached a certain age—say 40 or 50, or maybe even 60 and felt a sense of failure, or at least a regret that you should have accomplished more by then than you did? Most of us probably have. I hope the story that follows will provide each of us with some encouragement and inspiration that our best years aren't necessarily behind us simply because of our age.
David was born on September 9, 1890, in Henryville, Indiana. When he was six years old, his father passed away leaving him to cook and care for his siblings. In seventh grade, he dropped out of school and left home to go work as a farmhand, and from then on had various jobs. Even though he was a bold young man and had a strong sense of challenge and adventure, he had no real sense of direction or purpose in his life. And, this went on for the next 25 years.
At age 16, falsifying his date of birth, he enlisted in the United States Army. After being honorably discharged a year later, he got hired by the railway as a laborer. While he worked for the railway, he studied law by correspondence and practiced in justice-of-the-peace courts in Arkansas until a courtroom brawl with a client ended his legal career. He was forced to move back in with his mother and get a job selling life insurance. Did he last long? No, he got fired for insubordination. At this point, David's future looked quite grim and unpromising, to say the least. See, even back then there were boomerang kids… Not one to give up, David operated a steamboat ferry that crossed the Ohio River between Kentucky and Indiana. Later, he tried cashing in his ferry boat business to create a lamp manufacturing company only to find out that another company already sold a better version of his lamp. He even worked as a part-time midwife in the Kentucky hills.
At about age 40, he decided to pursue a line of work that he knew he had a talent for, so he began selling food in a petrol service station just outside North Corbin, Kentucky. The recipe he'd been working on began proving successful so he turned the station into a 142-seat roadside restaurant and motel. So popular did the cafe become over the next decade, that the governor of the state gave him an honorary title in 1936. He also received mention in Duncan Hines's 1939 book, Adventures in Good Eating. Wow…things were really turning around for David – and it was about time!
In 1948 David married Claudia Price, whom he met in the 1930s when she worked as a waitress in his restaurant in Corbin. Following the war, he set out to franchise his restaurant, but his recipe was rejected over one thousand times. Finally, in 1952, it was accepted by Pete Harman who owned one of Salt Lake City's largest restaurants. After Harman's success, several other restaurant owners franchised the concept. Harman soon came up with a catchy restaurant moniker. David still had his restaurant in North Corbin, but after Interstate 75 opened, the reduced customer traffic severely reduced his business so he sold it in 1956.
At age 65, and with only his savings and $105 per month from Social Security, David decided to focus exclusively on franchising his concept so he hit the American road in his 1946 Ford. With the car (often serving also as a bed) packed with pressure cookers, flour, and spice blends, he would enter a restaurant, offer to cook his meat, and then negotiate franchise rights if the owners liked what they tasted. On some trips early on, Claudia accompanied him. As David remembered, "My wife and I slept in the car many nights while we waited for a restaurant to open so we could go into our sales pitch."
By 1963, he was receiving franchise requests without having to travel much and had more than 600 restaurants across the U.S. and Canada. During these years, Claudia would remain at home packaging phone-in orders and taking them to the train station, sometimes late at night, for the next train out. In early 1965, knowing he'd taken his company as far as he could at age 74, he sold his interest in the company for $2 million to a group of investors. Some believed he should have received more money, but as a company executive stated, "With [David] it isn't money that counts, it's artistic talent." Even after they sold the chain, the couple traveled the world promoting their fried chicken and serving as ambassadors for the company. As Claudia later recounted, "I went into restaurants all over the country and played the part of the hostess with this antebellum dress on."
As impressive as his product was/is, perhaps more impressive was the fact that Harland David Sanders refused to give up after so many years of failures and misfortunes and whose major success didn't come until he was over 65 years old: Kentucky Fried Chicken went public in 1966 and was listed on the New York Stock Exchange in 1969. The company was acquired in October 1986 from RJR Nabisco by PepsiCo for approximately 840 million dollars. As of 2021, Kentucky Fried Chicken (KFC) is valued at $5.4 billion. Today, there are nearly 27,000 KFC restaurants in 147 countries and territories around the world.
Sanders was diagnosed with leukemia in June 1980 and passed away the following December at the age of 90 in Louisville, Kentucky. His memorial service on December 20 was the culmination of three days of mourning. In the words of Pastor James Lee Collins Jr "Although we have experienced a great loss, the Colonel . . . would not have us begin this service without joy and praise to God, therefore if the Colonel himself could choose the hymn that we would celebrate his life with, we feel very sure that it would be 'Joy to the World.' . . . The Colonel, as all of us should, gave God the glory for all his success and accomplishments.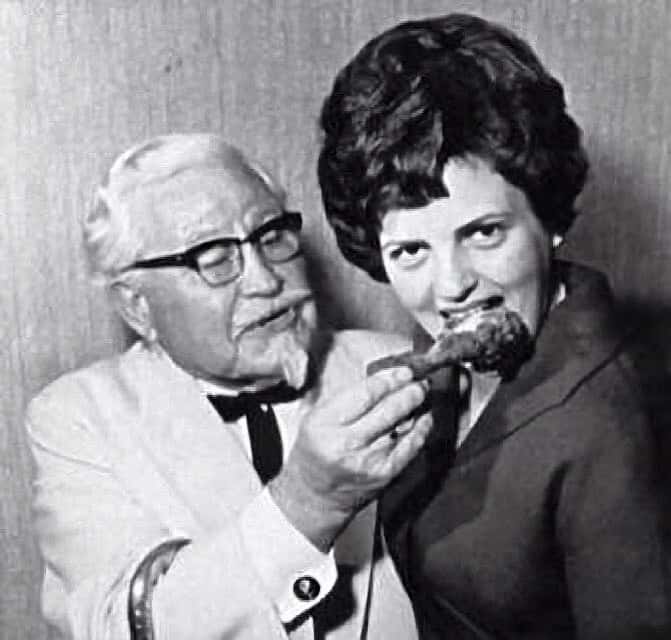 Claudia passed away in January 1997 at the age of 94. According to David Novak, president and chief executive officer of KFC: "We could not have been the company we are now without Claudia's contributions. We shall miss her.″ It's been said that behind every good man there is a good woman. Claudia was more than that…. she was beside the Colonel every step of the way. The loss of these two American treasures is immeasurable, but so is their enduring example and legacy.
Today, the Colonel remains the center of KFC's branding and his face still appears in their logo. His goatee, white suit, and western string tie continue to symbolize not only delicious "finger likin' good" fried chicken all over the world, but perhaps more importantly they symbolize the indomitable spirit of the American dream, the entrepreneur – that special class of men and women whose dreams, determination, innovation, and courage have helped to make our nation the greatest economy and land of opportunity the world has ever known. As the Colonel expressed it: "One has to remember that every failure can be a stepping stone to something better. I made a resolve then that I was going to amount to something if I could. And no hours, nor amount of labor, nor amount of money would deter me from giving the best that there was in me."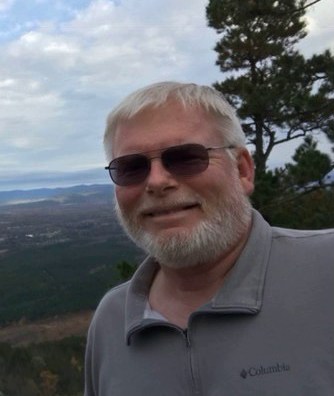 Jeff Olson, Author