General Manager Kelly Hale Presents Annual Report to HSVPOA Board of Directors
HSVPOA General Manager Kelly Hale presented the Annual Report to the Board of Directors at April 19, 2023, Board Meeting.
Our vision
"We will be a financially strong, self-sustained community with the wisdom and flexibility to adapt to changing generational dynamics. We've done that many times for a community that has been around for over half a century. Still, we always want to focus on the future and be proactive in what we do for our community so that it is here for another half a century and longer."
Hale said, "According to the Articles of Incorporation, Hot Springs Village POA has been created to improve the quality of life in our community and preserve property owner values. In conjunction with staff, the Board develops strategic goals annually to remain focused on the association's purpose throughout the year. These goals align with annual budgeting processes and help staff and the Board to achieve their objectives."
Taking a look at the '22 notable accomplishments
Implementing a comprehensive safety program resulted in a 97% reduction in employee loss time." Never before achieved in the 52-year history of the POA, the past six months have been accident-free. Workman's Comp payout costs have been reduced. We no longer needed to self-insure for the first time but could obtain an insurance policy for any large claims.
Focus on filling staff vacancies – Over 60 full-time positions have been filled.
Priority investments were made in street preservation, water, and sewer infrastructure – 100% of Charter 1, Article 29, Budget Prioritization Policy funds were expended and contracted during the year.
Implementing cost reduction methods throughout the organization – Creative methods include completing projects in-house and purchasing pre-owned vehicles instead of new ones. "These were game changers in '22." Traditionally, the Village has outsourced large projects, but under the leadership of Public Services Director Ken Unger, this is changing with the investment in equipment that will allow staff to safely, efficiently, and cost-effectively perform work. We expect to receive a positive return on investment in the equipment quickly.
Department-wide reorganization of management levels.
Finances, Marketing, Human Resources, Development, Compliance, and Police Departments have been restructured. The cost savings made it possible to increase wages from $11.50/hour to $14.00/hour for front-line starting workers, making it easier to recruit and retain talent.
Work with state and local political leaders to strengthen bonds and enhance relationships so that Village issues will be heard. Hale said, "Board members, staff, and I have spent countless hours in 2022 and 2023 working with many state representatives and senators" to open communications on what is important to us and where our needs lie. "We have not done a good job for the last three decades. We isolate ourselves, and people have created their own images of what we are as a community." We must get back out there and educate them. We are North America's largest private gated community, so we do not receive funding from Federal or State [governments]. We pay all our taxes but receive nothing in return, which does not allow us to operate in the ways some cities operate. We must keep up these relationships to get grants, matching grants, or anything that would be good for our first responders that we might be entitled to and were denied in the past. Hale stated that this would take time and understanding of the legislative language and getting the language changed.
Public Service completion of required maintenance to critical infrastructure continues to be a top priority. The Public Service Department has made tremendous progress.

A new culvert replacement process was developed, completing 21 culverts at the 2022 budgeted estimated cost to replace only five. Forty-six large culverts were also repaired at significant savings. HSV has replaced or repaired all high-priority category 1 and 2 culverts ahead of schedule. This project was a proposed ten-year project that Public Services Director Ken Unger completed within only two years.
Implementing new road paving and preservation approach resulted in $100,000 cost savings of the budgeted amount. We are finding road work done years ago is starting to fall apart, and we want to ensure that we won't have the same results moving forward.
A new fleet acquisition strategy was developed, focusing only on purchasing necessary vehicles and equipment, "allowing millions in opportunity for prioritizing fleet to be deferred to appropriate years or removed from the budget. When Ken [Unger] and I came in, there was a plan of about 1.8 M for buying new vehicles. We do need to upgrade a lot of our fleet." Hale said the equipment was being held together with duct tape when he started. The POA began closely examining and maintaining vehicles and purchasing used vehicles when necessary. "We have many good-quality used vehicles that have never even left the fence line of the Village. They have low mileage." We are obtaining vehicles for about 20% of what was originally budgeted.
A new lake dredging process was implemented – resulting in improved processes and hundreds of thousands of dollars in savings.
Consolidation of eight departments to five, resulting in reduced costs, improved efficiency, and productivity.
A new online form on Explore the Village website was introduced to provide a convenient and efficient way to submit Public Service Department requests. Click here and scroll down to see the new form.

HSV is undergoing significant technological upgrades for both hardware and software.

Security monitoring systems have been upgraded.
VIP phone system and call center applications were installed.
A new utility billing system was implemented.
Transitioning to a comprehensive new member services software system called "Northstar." Completion is expected in late 2023. This new system will provide annual savings of over $100,000 and improve efficiencies. We currently have 16 different platforms because we kept adding on to an antiquated system. Every time we had to add a new platform, our costs rose. With the new system, we will only have eight platforms.
"We know change is difficult. When you do something the same way for a long time, this new system. Please don't start throwing rocks at the Board and me. It's new; I am telling you now. But it is a website with drop-down boxes. You will find it is just like the old site, but it just looks different. So, be patient; play with it. Volunteers can assist if you have trouble using the new website. More information is coming."

Kelly Hale, HSVPOA General Manager
Public Safety – police, fire, and emergency service had a momentous year.

A six-year contract was executed with LifeNet Ambulance Services. – The Finance and Planning Committee, along with other volunteer experts, assisted with the details of this operation.
Police Chief Kristi Bennett was welcomed in June of 2022. Chief Kristi comes to us from Texarkana, Arkansas, where she also served as Chief of Police. Originally from Jessieville, Chief Kristi has implemented many changes, including but not limited to new uniforms and badges, a facelift for the department, the establishment of specialized agency training, and an auxiliary release officer program.

Currently, in process, Bennett said, "Accreditation in the ALEAP (Arkansas law enforcement accreditation program) process. The Arkansas Law Enforcement Accreditation Program (ALEAP) is a voluntary process where police agencies in Arkansas prove their compliance with Arkansas Law Enforcement's current Best Practices or Standards. Arkansas Law Enforcement professionals carefully developed these Standards to assist agencies in the efficient and effective delivery of service and the protection of individual's rights."
The Chief also applied for grant opportunities and performed technology upgrades and assessments for CAD radios, mapping, and RMS.
Hale said, "Our fire and police communication systems are about 15 years behind."
These upgrades and accreditations open the door for grant applications, freeing up money to be used elsewhere in the community.

Finance – The Accounting Department experienced a mid-year transition with the addition of Controller Frank Hubbard in July of 2022.

Department restructuring created three verticals of management organization for each accounting division.
Improved financial reporting included revisions to monthly financial reporting cycles and a new critical infrastructure spending report. Implementing strategic investment plans has led to HSV funds earning close to $80,000 in interest.

Marketing and Business Development

"Our Discovery Package Program surpassed historical sales with 255 packages in 2022. Seventy-three packages were converted to lot or home sales. Sales remain high with 35 packages sold in the first quarter of 2023."
Lot sales are also experiencing historical highs, with over $262,000 in 2022 sales.

Implementation of creative ways to offer group lots to developers at strategic locations.

"A strategic approach to marketing efforts, focusing on areas outside of our community where individuals may be interested in moving out of high-volume locations and are looking for what we have to offer – a secure gated community with world-class amenities in a natural scenic environment."
Kevin Sexton, Business Development Director, and Matt Lewarn, Golf Sales Manager, have attended shows in Chicago, St. Louis, Atlanta, and Dallas. The Arkansas Department of Tourism has sponsored the trips and funded 50% of the expenses. We have a very strategic marketing approach in areas with high population growth. Focusing on the Dallas area for many years, Houston is the next area of focus. Houston represents a prime marketing opportunity, with about a six-hour travel time.

The Golf Department staff has been hard at work completing in-house course projects.

Granada Golf Course is undergoing an extensive in-house bunker renovation project. Expected completion is expected around the middle of May. This project is another example of team members finding cost-cutting solutions. Hale said, "We saved $590,000 on this project versus bringing in a vendor {which we did in the past]." General Manager Hale clarified that the money spent on Granada is not coming out of the Golf Reserve Fund, which is set aside for Balboa renovation, as promised. (Hale said they also have plans for tennis, trails, and facilities.)

Increasing volunteer engagement with committees, clubs, and service organizations. Volunteerism has been essential to the success of HSV for over 50 years. Click here to read "Hot Springs Village – A Community of Volunteerism."

A community is "a social group whose members have something in common, such as a shared government, a geographic location, a culture, or heritage." Hale stressed, "It is a group with a common purpose."
Moving forward in 2023
"2023 Focus continues to be, Hot Springs Village is going to take care of the maintenance of critical infrastructure as well as the amenities, golf courses, and recreation facilities that our community offers. We have already begun to paint and polish our assets to bring them new life and assure amenities are maintained for the future."

"We are taking a very blended approach to the entire Village. If you see us working a little everywhere, we have allowed maintenance to be deferred for many years. You can't focus on one area to play catchup."

"We are behind, but I think we are making a lot of ground but our efforts must continue to be a blended approach and focusing in on revenue-generating activities."

"Many of us moved here for the security of the gates and a reasonable cost of living. We must be creative and need people to help to keep costs down. If you came to the Village to be served, assessments would need to raise to around $250. We want to serve our community. We want to be helpful, but our community is like a co-op in many ways in that it takes everybody to make it work."

"It is a new day and this year will be fabulous… I ask that everyone be patient and have faith. I have a plan, and we are working through it. We will get to where we need to be, and we are going to do it in a financially prudent way. This is the community I moved here to be a part of."

"I appreciate all the support."

Kelly Hale, HSVPOA General Manager
Click here to read "Vandalism to Hot Springs Village Property."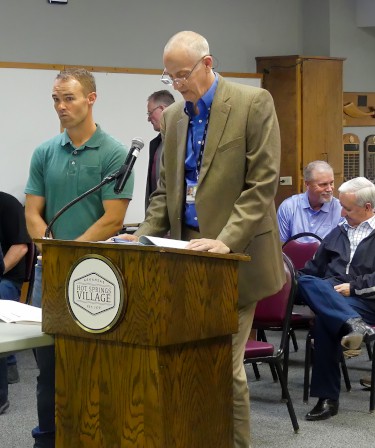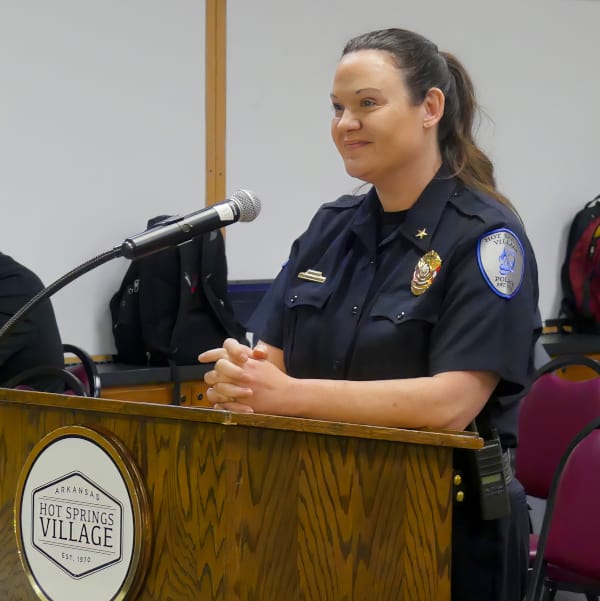 Report by Cheryl Dowden