Having had a tremendous Memorial Day concert, the Hot Springs Concert Band is now underway with preparation for its summer series. As many of the band's fans remember about our summer concerts, each one has a theme usually directly tied to the music selected. The band's artistic director and principal conductor Dr. Craig Hamilton has come up with ten songs we like. Yes, that is the theme of our next concert – "Ten Songs We Like."
Those songs include: "Joy", "On a Hymnsong of Philip Bliss", "Be Thou My Vision", "Rough Riders", "Grace Praeludium", "Instant Concert", "The Music of the Night" (From The Phantom of the Opera), John Williams: "Movie Adventures", "Curtain Call", "Strategic Air Command".
The Band's other summer concerts are on June 27, July 11, and July 25, all on Mondays and all starting at 6:30 pm. The June 27 concert theme is "Travelin' Music", the July 11 concert theme is "What's In a Name?", and the July 25 concert theme is "Dance Music." In all, the band will be playing 46 songs in four concerts in a six-week period. Not surprisingly, there should be something for everyone's musical tastes, so place these dates on your calendar and make plans to attend one or more of our concerts this summer. You'll be glad you did.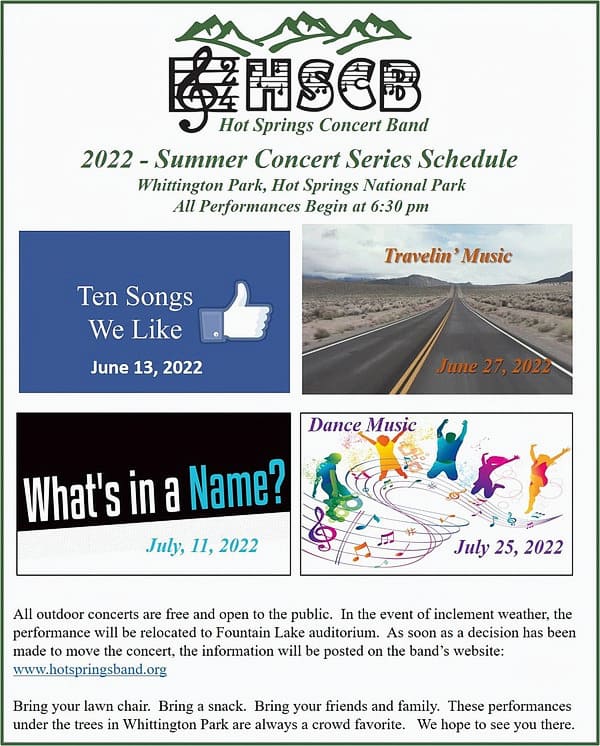 We hope to see you on Monday, June 13 at 6:30 pm at Whittington Park in Hot Springs for "Ten Songs We Like." We are confident you will like them too! The park is located three blocks west of the fountain at the intersection of Central, Whittington and Park Avenues. There is no admission charge for the concert, but everyone will have an opportunity to donate towards the band's operating expenses. In the event of inclement weather, the alternative indoor venue will be the Fountain Lake school auditorium located at 4207 Park Avenue in Hot Springs.