After a long hiatus due to COVID limitations, Hot Springs Village Alive After Five has reappeared with a bang!
A very successful Alive After Five hosted at Melinda's Cafe & Coffee allowed many area business owners, and residents to enjoy a wonderful time. This spectacular event, held on Wednesday, June 15, was co-sponsored by the Hot Springs Village Chamber of Commerce, and Linette Galbraith of Trademark Realty along with Melinda's Cafe and Coffee.
Hosts for the event, Glen and Beth Gaboury of the well-known Feelin Groovy duo, delighted us with their musical talents and quick wit, and Katherine Sarver of Good Spirits provided wine for the occasion. Sarver is a sommelier and she presented a superb wine tasting presentation. The wine was also provided by others.
Chef Alanna Owen, and her husband Daniel, co-owners of Melinda's Cafe and Coffee, provided a large variety of delectable hors d'oeuvres. Melinda's was the perfect venue to hold the Alive After Five comeback event with its charming and quaint atmosphere.
The Owens plan on expanding service in their cafe to include Wednesday and Friday evenings and will soon be expanding their menu to include select wines and beer. Recently, Melinda's installed a drive-thru window and they also offer dine-in and regular take-out. They will be extending the patio, including the addition of a roof, and plan to have entertainment during their evening hours. Melinda's also offers event catering.
Spirits were high, the wine flowed, as did the lively conversation. The atmosphere was perfect for connecting with old friends and meeting new acquaintances.
The HSV Chamber of Commerce plans to host more Alive After Five events. These events are ideal for showcasing area businesses, networking, building community spirit, and meeting other locals. Stay tuned for information about upcoming Alive After Five events.
Melinda's Cafe and Coffee is located at 3901 Hwy 7 North, Hot Springs Village AR 71909
MONDAY-SATURDAY 7:00-2:00 \ Closed Sunday
501-984-5393
Linette Galbraith is a real estate agent at Trademark HSV Real Estate.
Email:
[email protected]
Call/Text: (214) 578-3337
Trademark is located at 1060 DeSoto Blvd in Hot Springs Village, AR 71909.
Office: 501-922-0707
Good Spirits is located at 109 Calella Road in Hot Springs Village. To place an order, call (501) 922-2200. Click here to visit their website.
Feelin Groovy is an acoustic duo that plays family-friendly music from the 60s, 70s, and more. For booking call (501) 408-9466. Email contact is [email protected].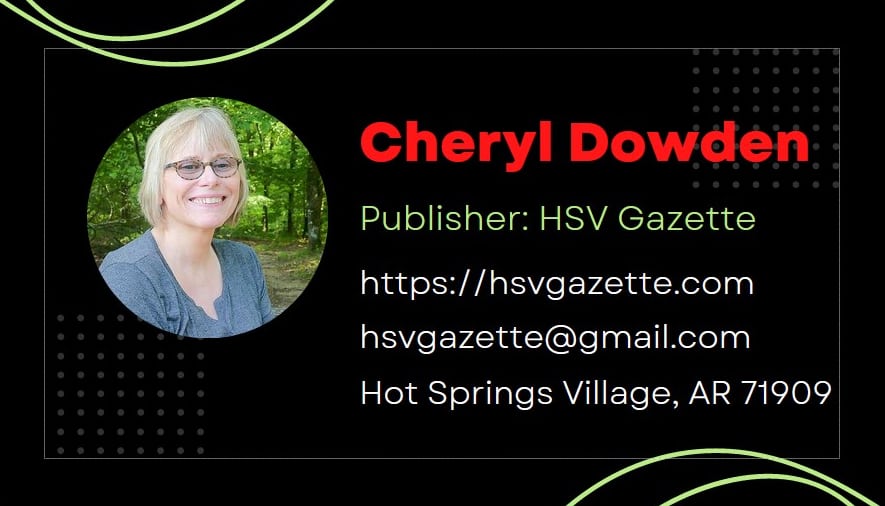 ​