Cover Image: Village Big Band Rhythm Section: (L-R) Earl Wilde, Mike Williams, Michael Holdiness
By Jeff Olson
The Hot Springs Village Big Band continues its 2023 season by playing several events this spring. On April 21-22, the Band is playing two shows at the Wildwood Park for the Arts Theater in Little Rock and on May 5, the band is bringing its lively jazz and contemporary sound an outdoor concert at the Unitarian Universalist Church in Hot Springs Village.
The Hot Springs Village Big Band was founded over twenty years ago. Since its beginning, the band has evolved continuously into a very fine-tuned Jazz, Show, and Dance Band. The seventeen-member group consists of players from all walks of life, some from teaching, business, administration, and other professional careers. Many have experience as music educators. The musicians are from Hot Springs Village, Hot Springs, and the greater Little Rock area.
Band director Jim Kelly is proud of this group of talented musicians and would like for you to know more about them. Over the next several months, articles about the band will include short biographies of all seventeen members. These will be presented one section at a time, with the first highlighting the rhythm section.
We begin with the band's drummer, Michael Holdiness. Michael holds a Bachelors Music Education (2007) and Masters Music Performance (2010) from the University of Louisiana at Monroe. He also earned his Specialist in Education Administration (2018) from Arkansas State University. He has performed with South Arkansas Symphony and Monroe Symphony Orchestra and has served as a band director and music teacher in public schools for nine years. Michael moved to Hot Springs Village in 2016 and has loved it! He is currently a realtor with TAYLOR REALTY GROUP in Hot Springs Village.
Next is bass player Mike Williams. Mike started playing bass in the spring of 1994 and has played in jazz bands since the fall of 1994. Mike learned early on the importance of practicing after his first concert with the school jazz band "went terribly." So…Mike started practicing hard, and he's never looked back beyond that valuable lesson. He studied classical music at Boston University from 1998 to 2003. In the summer of 2003, He played on one of jazz trombonist' John Hines's studio albums. As Mike noted, "When I was asked to play in the Village Big Band, I jumped at the opportunity. The musicians are all top-notch, and everybody has such a positive attitude. I'm fortunate to be the bassist in the band. The other rhythm section players are both extremely talented as well, and it's always a joy to play with them." Along with being the Village Big Band's bass player Mike serves as a substitute bass player in the Arkansas Symphony Orchestra.
And rounding out the rhythm section is pianist Earl Wilde. Earl started studying piano with a private teacher when he was five years old. At age 11, he began classical pipe organ lessons and at 16 he started studying with a professor at the University of Akron. By age 13, he was a church organist, and then continued playing for choirs and churches. However, his focus was on classical music.
In Earl's words, "I grew up listening to the classics, but my dad was also a big fan of the big bands of the 1940s. On evenings and weekends, it wasn't unusual to find the turntable loaded with 33s and 78s of the orchestras of Glenn Miller, Tommy Dorsey, Les Brown, and Count Basie. Other than a short stint at keyboard for a rock band in the sixties, all my experience was with classical and sacred music …. So – I was thrilled when Bill Morgan contacted me in 2018 and said they had an opening for a keyboard player in the Village Big Band. I had some learning to do on chord structures and 'jazz' piano, but I've loved every minute of it and still do!"
The HSV Big Band performs several times each year in the Hot Springs Village and Hot Springs area. They often work with Hot Springs Jazz Society and Hot Springs/Hot Springs Village Symphony Guild events. The Band rehearses weekly and is ready to perform its up-tempo, swing and beyond music for those who love great jazz stylings.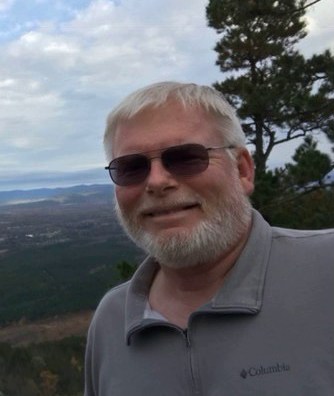 Jeff Olson, Author