True to form, the Hot Springs Village Players presented a seemingly seamless presentation of Vintage Hitchcock on Saturday, July 30, 2022, under the meticulous and artistic guidance of Director, Missy Masterson Hale. The opening night was on Friday, July 29.
In a dramatic and intriguing performance that kept the audience mesmerized, the players performed two unique and arresting plays on a spectacular stage-size radio set. Taking the audience back to the heyday of radio entertainment and immersing the attendees into the experience by making them part of the live performance (the audience played the studio audience), the Players delivered flawless renditions of Alfred Hitchcock's The 39 Steps and The Lodger.
The 39 Steps took the audience back to classic radio where one's imagination reigned supreme. The HSV Players brought this comedic performance to life with the vibrancy and professionalism they have become known for. In this nostalgic piece, "Richard Hannay must save England from its enemies, both foreign and home-grown" while at the same time having a romantic liaison with Pamela. As Pamela both "dislikes and distrusts" Richard, this is no easy act to balance. As England was saved and the mismatched couple did not marry, the story ended happily ever after.
The Lodger captured "a shadowy and threatening world in which newsboys yell out their stories of the latest murder by the Avenger just as a mysterious stranger arrived at the Bunting home to rent a room." The stranger, while providing the Bunting couple with a means to bring their daughter home, ultimately turned out to be the one to take their daughter away permanently. In an intriguing plot with twists and turns, the Players brought this vintage play to life on the Coronado Community Center stage.
The Cast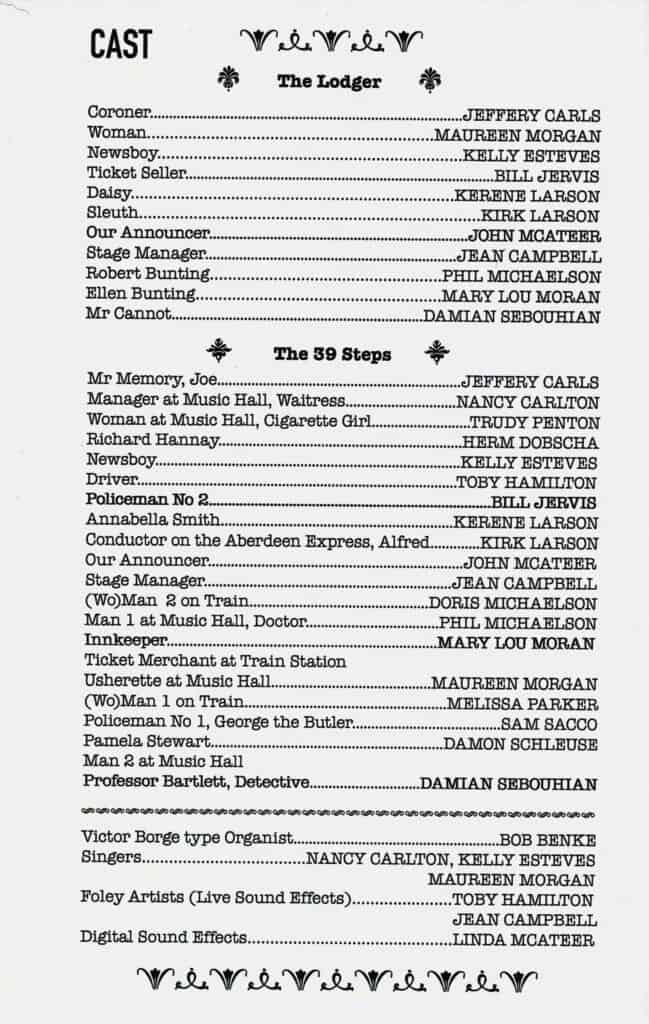 The Players had two auxiliary sets. The first was where Toby Hamilton played the Foley Artist, Hamilton created sounds that could not be properly executed on stage. To do this in a live play is no easy feat as the actors and the sound effects must be perfectly synchronized and timing is everything. (See video below.)
On an additional set, in a lively and hilarious performance, Chuck Miller played the Victor Borge-type Organist. His energetic performance was a show in itself. (See video below.)
And last, but definitely not least, Nancy Carlton, Kelly Esteves, and Maureen Morgan treated us to their harmonic singing of commercials in addition to their performance in the lobby during intermission. (See video below.)
Bravo to cast, crew, support staff and director for a spectacular performance!
The Players' next performance will be The Wizard of Oz, November 17 through the 20th at the Woodlands Auditorium. Click here to visit the HSV Players website.
By Cheryl Dowden, Videography and Photography by Joe Dowden