Artist, Judy Nowak and her husband, Steve, retired and moved to Hot Springs Village about five years ago. Judy and her husband have long been involved in the arts in Granbury, Texas, where they owned an art gallery. Longing to bring more art to the Village, Judy had the idea of organizing an Arts and Craft Show at the Balboa Clubhouse.
Judy said, "I miss being surrounded by creative people. I saw an opportunity to create a somewhat similar venue at the Balboa Club. After talking with the new, extremely nice owners Ashley and Brandon Kogut, and wanting to support their business at the Balboa club so we can enjoy their great restaurant, I decided to create a monthly arts event. This will include a spring and fall art and garden vendor's fair with all-day classes and demonstrations. Lunch and dinners will be available at The Turn Sports Bar to enjoy. Our hope is to showcase local artists with demonstrations and classes."
Nowak is coordinating and sponsoring the first Hot Springs Village Arts and Craft Show at the Balboa Clubhouse on May 14, 2022, from 10:00 AM to 4:00 PM. There will be something for almost everyone with art classes, demonstrations, door prizes, and great food at The Turn Sports Bar. The Balboa Clubhouse is located at Balboa Golf Course, 111 Balboa Way. See the demonstration/class schedule below.
Demonstration/Class Schedule for Balboa Arts and Crafts Show May 14th
1. How To Construct A Glass Solar Flower– 10 AM – 10:30 AM – Ann Kendrick
2. Stack Pot Construction With Edible Flowers – 10:30 – 11 AM – Master Gardener Debbie Atchison
3. Acrylic Paint Pour Painting – 11:15 – 12:00 – Ana Marie Fuseth
4. How To Make A Colored Glass Mosaic Stepping Stone 12:30 – 1:15 Marinda Longino
5. Best Techniques Painting Furniture With Chalk Paint 1:30 – 2 PM Kay Mount
6. Fun With Paint Party – 2:15 – Sherry Powell and Kay Mount
7. Painting On Wearable Silk – 3:30 – Pat Langewis
8. Polymer Clay Demonstration – 1:00 – 4:00 – Marlene Gremillian
9. Wood Burning Art – All day – Stacie Sanchez
10. Add Your Embellishment & Stitching to Community Quilt – All day – Emergent Arts
11. Using Paint Pens To Create Wearable Art – All day – Sharon Bryant
About Some of the Artists
Judy Nowak
Judy Nowak enjoys creating various art forms including vintage glass garden art and recently taught a class at Garvan Woodland Gardens. Gardening is also one of her passions and she has been a Master Gardener for 30 years. Judy is also a member of the Garland County Master Gardeners and Chairman of the Boomers Rock Garden Club.
Ann Maria
Ann Maria started painting 35 years ago. Back then she used an oil paint medium for natural and still life scenes that inspired her to express the beauty around her. A life event stopped her from painting for quite some time. Fast forward to Covid and she absolutely needed to paint again. This time she chose acrylic pouring with some embellishments and interpretations uniquely her own. She finds creating with this new pouring medium very relaxing and she can
express herself as never before!
Kay Mount
Kay Mount grew up in High Point, North Carolina. This gave Kay an appreciation for furniture which led to a 25-plus-year career in Interior Design, including a fun stint on HGTV. Many years of teaching furniture painting and the creation of her own line of chalked paint make Kay uniquely qualified to guide you on your creative journey.
Linda Gaeta
Linda Gaeta is a lifelong artist with a BFA in Ceramics. She has been creating art dolls based on cultures from around the world as well as her own facial creations for over fifteen years and is currently showing in the Whittington Gallery in Hot Springs. Her creations are based on her interpretation of meaning within the cultures they are from as well as her own eclectic original creations. Each piece is unique and she has created over five hundred pieces that are seen in homes around the globe. She has lived in the Village for four years.
Marinda
Miranda was born and raised in Magnolia Arkansas. Her mother would enroll her and her sister in arts and crafts classes in the summertime. After growing up, she began decorating and repurposing furniture with her unique designs. She had a china cabinet that she wanted to repurpose into a liquor cabinet. She thought wow this would look great with stained glass and it just so happened that she had taken a mosaic class. She came up with a design and started her project, and it worked!
Marlene Gremillion
Marlene Gremillion, a Hot Springs Village artist, enjoys creating and designing in many mediums and has done so for over 35 years. Texture, color, and light play an important role in what she designs, be it in oil, pastel, watercolor, collage, glass, polymer clay, or jewelry. She enjoys working, manipulating, and creating with her hands and experiments to see if she can come out with a pleasing artistic piece. "It sort of reminds me of being a child at play. I just enjoy having fun along with it being therapeutic for me".
Sherry Powell
Local HSV Artist, Sherry Powell studied Advertising Design and Art at the University of Dayton and the Dayton Art Institute. Sherry had a minor in horticulture and worked for over 30 years designing large interior landscapes for Malls, Hotels, Hospitality, Corporate Businesses, and Office Buildings.
Sherry retired in 2019 and sold her share of Tropical Sensations Plantscaping in Austin, Texas. Later that year she moved with her husband, Jay, to HSV. However, she discovered retirement was not enough for her. Along with her friend Kay Mount, they opened a Fun With Paint Party business. Both talented women are retired and decided they wanted to bring a Fun Painting experience for people to enjoy. Currently booking parties at the Beehive a few days a week. Come join the party and paint a Masterpiece!
Stacie Sanchez
Stacie Sanchez was born and raised in Grants, New Mexico. While cultivating her art skills and career her life brought her to Little Rock, Arkansas where she is currently completing her Bachelor's degree in studio art and creative writing. Stacie's love for traditional New Mexico and arts remains a strong focus in many of her pieces. Through contemporary visual storytelling, her painting, wood-burning, and sculptures honor the colors, imagery, and culture she carries in her heart wherever she may be. Along with the "traditional," Stacie enjoys creating works of both whimsy and surrealism.
Pat Langewis
Pat Langewis is a signature member of four watercolor societies in the South. Originally from California, Pat has been a part of the local art community in Hot Springs Village for 15 years. She paints vibrant colors on hand washable silk. The silk is luxurious wearable art. Pat's silk is available at the Artists' Workshop Gallery in Hot Springs and at Paradise Found, a boutique in Kona Hawaii.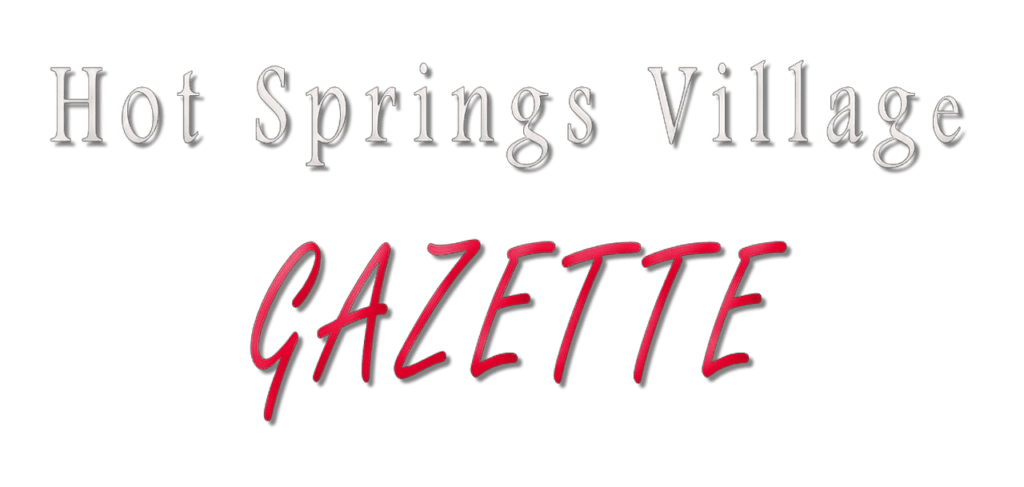 Cheryl Dowden, Publisher Hot Springs Village Gazette