On Friday, February 3, 2023, the Hot Springs Village local Veterans of Foreign Wars (VFW) 10483 presented awards to talented Jessieville School essay contest writers at Clampit's Country Kitchen. The VFW provided a scrumptious southern BBQ luncheon, served by the restaurant located in Jessieville at 5398 N State Hwy 7.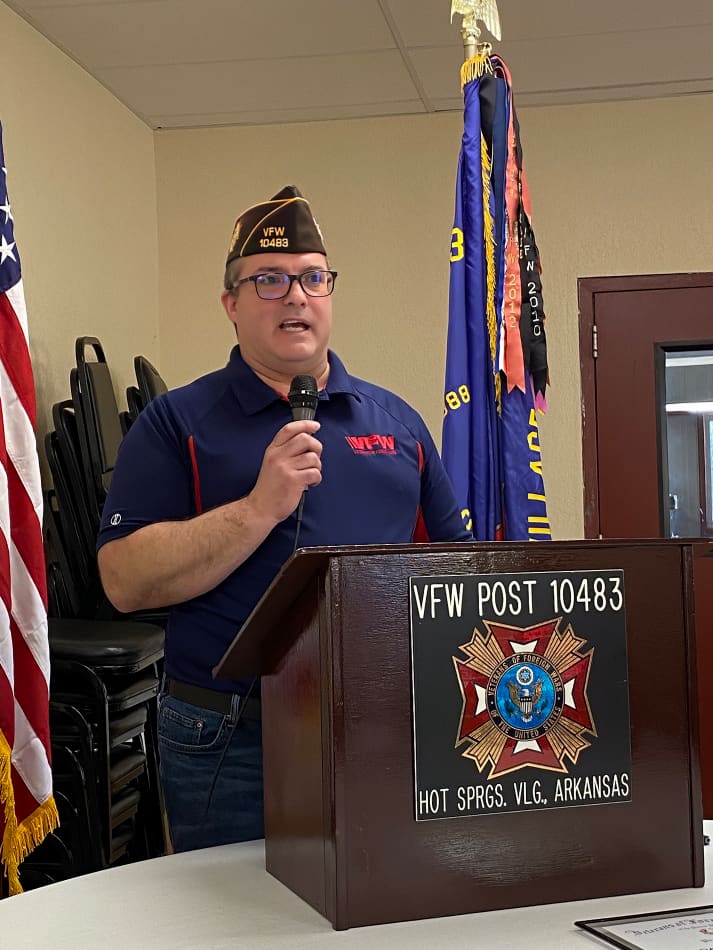 One of the core values of the VFW is to serve their communities, and in the spirit of helping to fulfill this promise, every year the Veterans of Foreign Wars hold two nationwide essay contests for children in grades six through twelve. The essays are first judged at the local VFW, with winners progressing to higher levels, culminating at the nationwide event.
Dominic Listermann, HSV VFW Post 10483 Commander and Arkansas District 9 Senior Vice Commander conducted the 2022/2023 HSV ceremony. Click here to read Commander Listermann's profile on Linkedin. Mark Winburn, HSV VFW Post 10483 Senior Vice Commander, and HSV Membership Chairman, installed the 100% membership streamer on the flag. Also in attendance at the award ceremony were VFW Department of Arkansas Commander Jeffrey Byrd and many other VFW members. Click here to read Commander Byrd's bio.
Patriots Pen (Grades 6-8)
The contest for children in grades six through eight is called, Patriots Pen. The 2022/2023 Patriots Pen topic was, "My Pledge to Our Veterans." Students composed 300-to-400-word essays for a chance to win a share of more than $1.4 million dollars. Each state first-place winner earns a minimum of $500, and the national first-place winner receives $5,000.
The Voice of Democracy (Grades 9-12)
The second contest category is The Voice of Democracy, and 2022/2023 theme was, "Why is the Veteran Important?" The Voice of Democracy is open to students in grades nine through twelve, and essayists must submit an audio version of their essays. The national first-place Voice of Democracy victor receives a $30,000 scholarship, paid directly to the recipient's American university, college, or vocational/technical school. There are also other scholarships ranging from $1,000 to $21,000, with the first-place recipient from each state earning at least a $1,000 scholarship.
2022/2023 HSV VFW Post 10483 Patriot's Pen Finalists
Jessieville eighth-grader, Breanna Greer, placed second in the Patriots Pen competition, earning $200.00. Lolita and Scott are the parents of Breanna.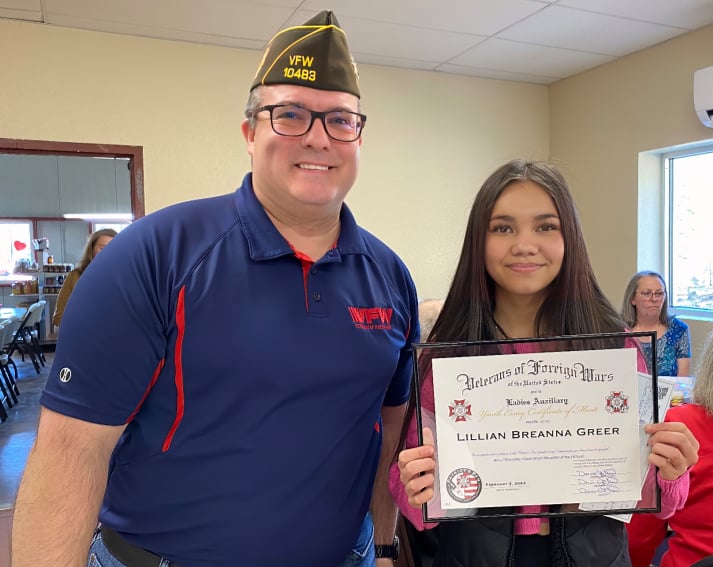 Eighth grader, Adeline Robertson, achieved first place in the Patriots Pen, earning $300.00. Adeline's parents, Holly and Chris, accompanied her to the ceremony. Adeline was advanced to VFW District 9 Competition, where she also earned first place. The state-level banquet was held Saturday, February 4, where she placed 4th.
Reading her essay to the enthusiastic crowd, Adeline, whose father served in the Marine Corps, said she pledges to raise awareness for Veterans who are people just like us who put their life on the line for the country and its citizens, deserving recognition. "As American citizens, we have a job to fulfill – returning the love the veterans have given…" Adeline's grandfather served in the Air Force and taught her about determination.
Adeline said that some veterans suffer scars, explaining that a recent survey found that 83% of veterans and active duty servicemen and women have experienced PTSD since 911.
Adeline shared, "The veterans in my life have made me who I am."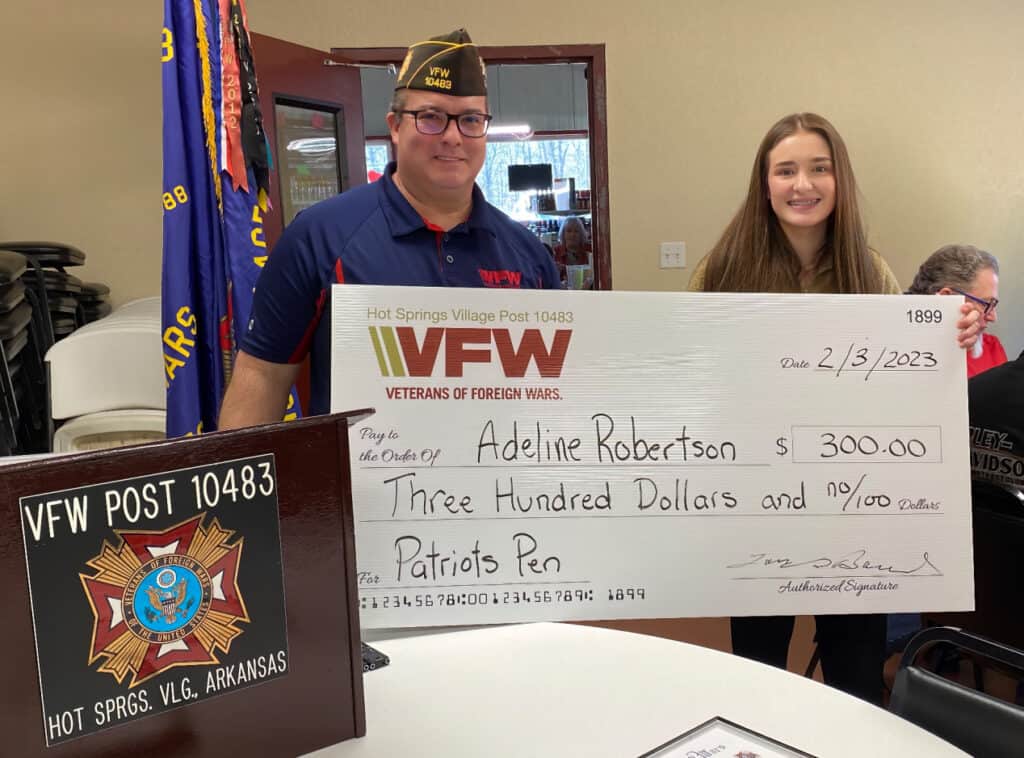 2022/2023 HSV VFW Post 10483 Voice of Democracy
Winners
Jessieville senior, Abigail Meredith, placed second in the Voice of Democracy contest, earning $300. Abigail's parents, Courtney and Brian, supported Abigail with their presence at the ceremony.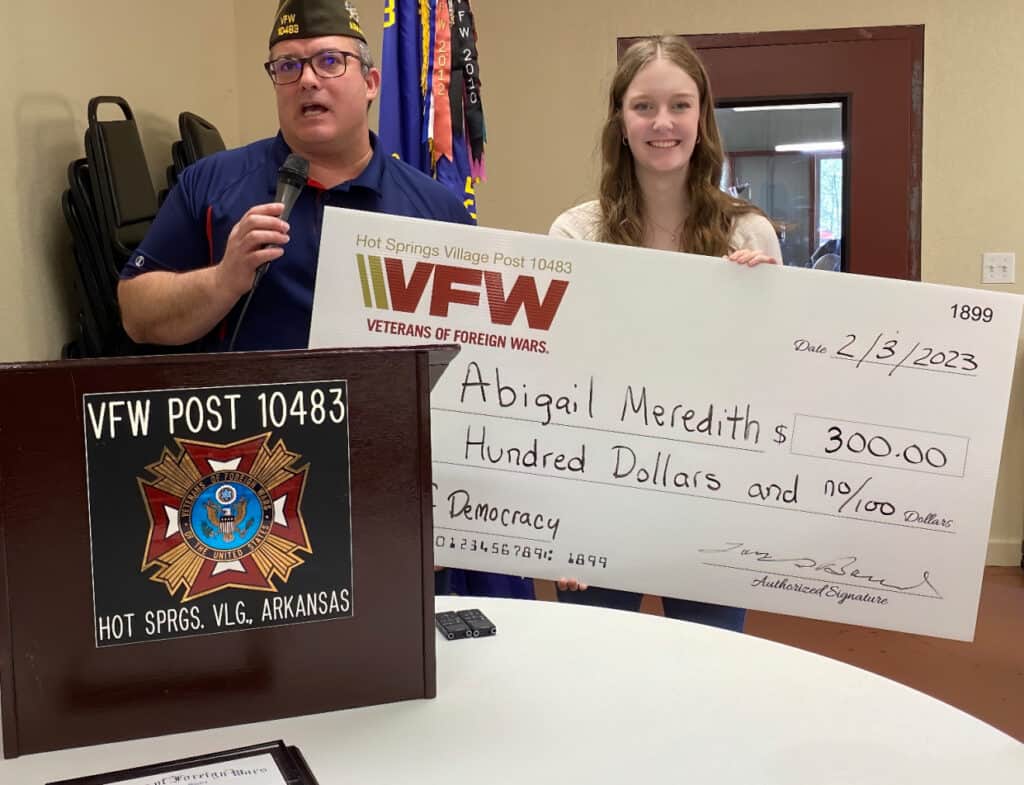 John Canaan Taylor, a Jessieville senior, was awarded first place in the HSV Post 10483 Voice of Democracy essay competition, receiving a check for $500. Parents, John Mark Taylor and Carey Taylor attended Friday's ceremony. John was advanced to the VFW District 9 Competition where he was awarded second place.
John read his essay to the group, saying that his previous narrow perception of a veteran has changed as he has matured. "Their image is oftentimes corrupted by politicians who use the credibility of veterans to legitimize political agendas and persuade voters. They are consistently overlooked because they struggle with challenges such as PTSD, depression, and substance abuse."
John explained, "above all, their sacrifice, more often than not, goes unnoticed and unappreciated." Veterans are incredibly important to our nation but are not always treated as such.
"America's democracy requires dutiful attention and care in order to survive," said John.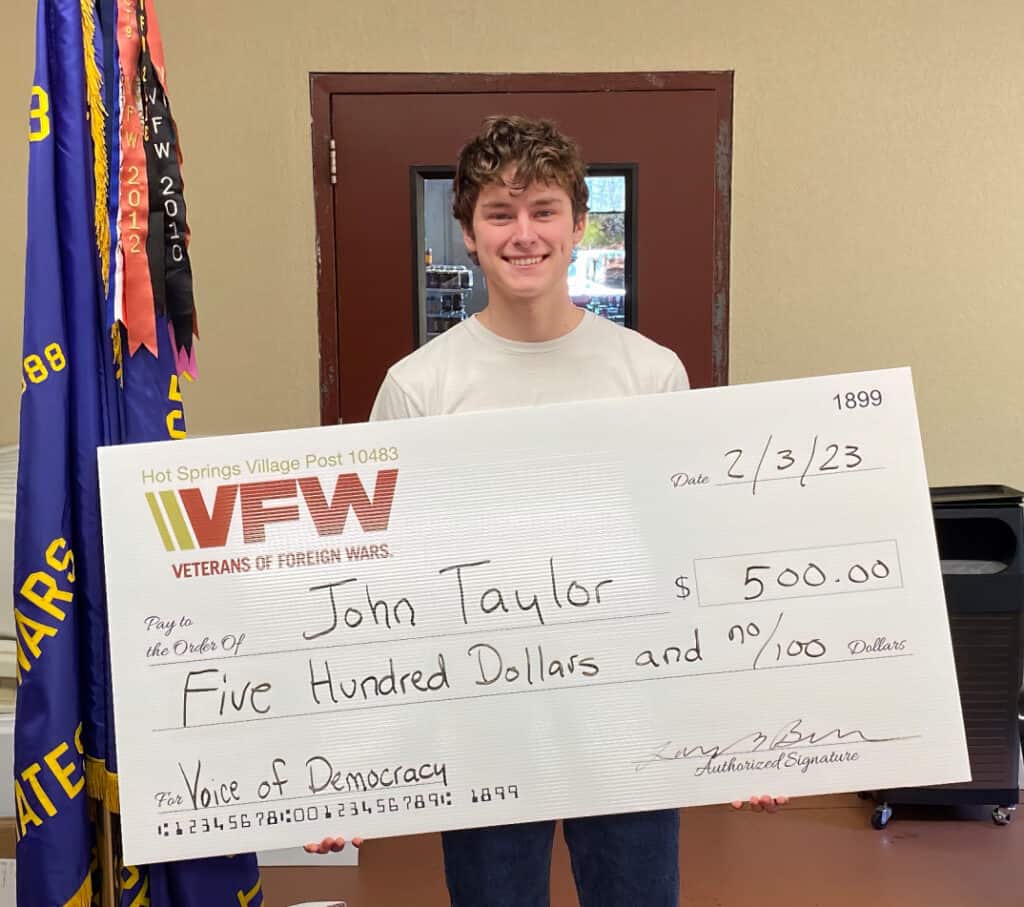 Additional Awards
Jessieville Middle School English Teacher, Jodi Castleberry, was presented with a plaque to show appreciation for her support. "Without people like you, the students wouldn't be aware of these programs," stated Commander Listermann.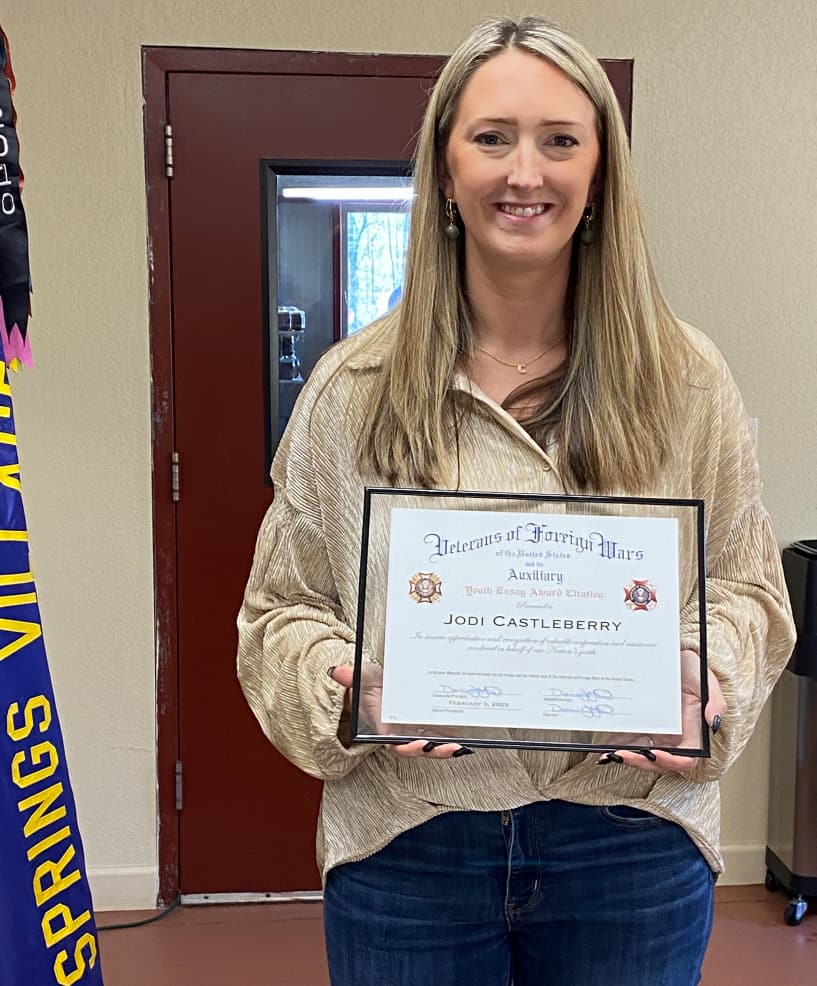 Jessieville High School civic and social studies teacher, Margie Rowland, was presented with a plaque for her role in supporting the students with the essay contest. Commander Listermann said, "They often say if a student fails to learn, a teacher fails to teach. You wouldn't have the quality of these students without the teachers that we have."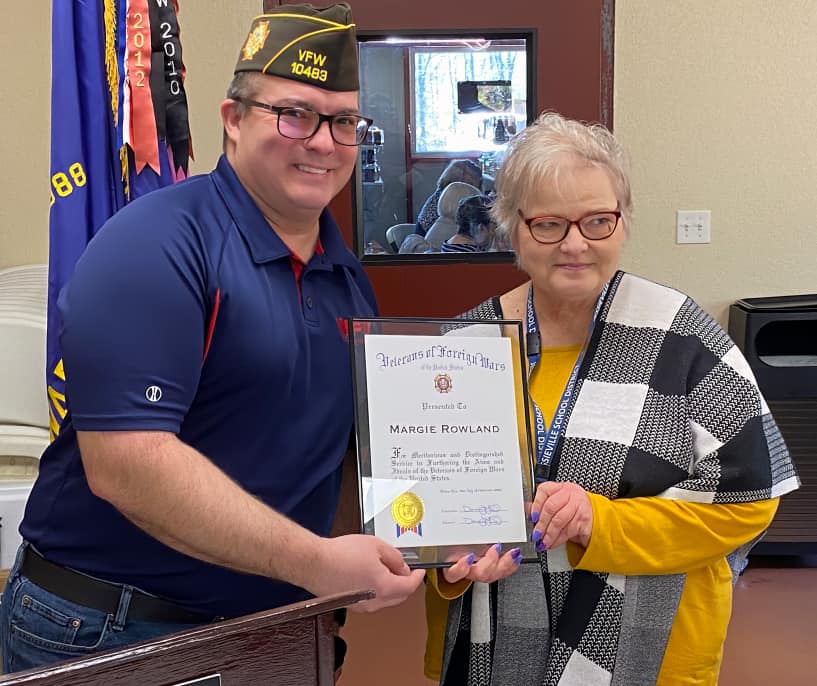 Jessieville Counselor: Chris Benson was honored with a plaque for her meritorious and distinguished service. Commander Listermann said, "I have worked with a lot of school counselors and with a lot of programs, and Chris Benson is by far above and beyond. It doesn't matter where you go in this country. You probably won't find a better counselor than Chris Benson."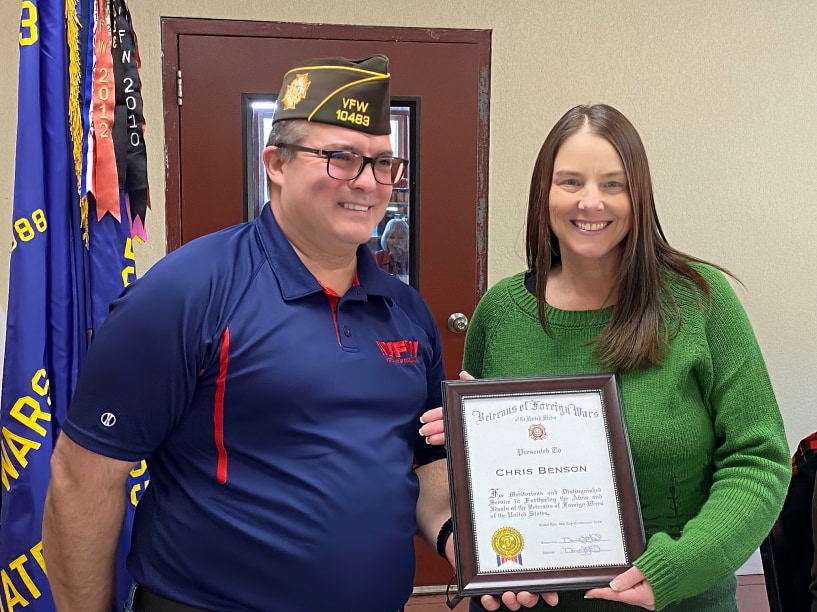 HSV VFW Post 10483 will present Jessieville teacher, Linda Thrasher, with the Hot Springs Village VFW Post 10483 Citizenship Education Teacher of the Year Award and $250.00 next Thursday, February 9 at their regularly scheduled meeting held at the Balboa Club at 7:00 pm. Two new HSV members will also be welcomed at the same time.
Guest Speaker, Alfred "Al" Lipphardt, VFW National Jr. Vice Commander In Chief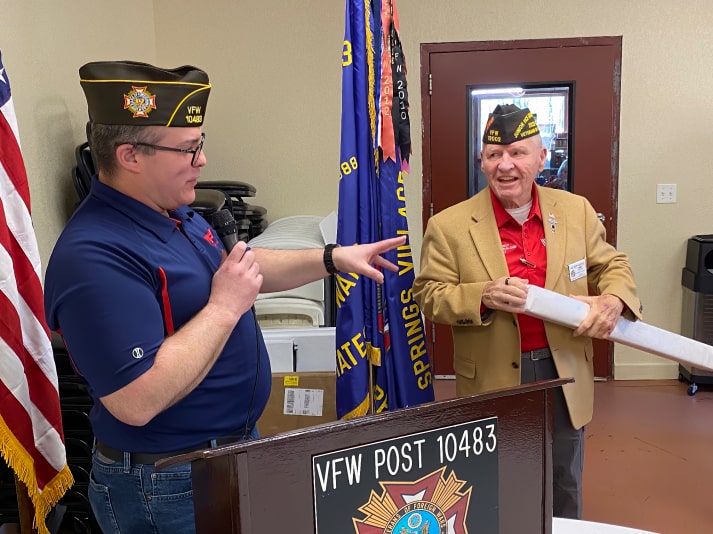 Listermann introduced guest speaker, Al Lipphardt, a highly decorated Vietnam war veteran, and VFW National Jr. Vice Commander In Chief. During Lipphardt's term of military service, he received a Bronze Star with Valor device, Bronze Star Medal for Meritorious
Service, Purple Heart Medal, Army Commendation Medal, Good Conduct Medal, the National Defense Service Medal, Vietnam Campaign Medal with Silver Star and two Bronze Stars, Vietnam Service Medal, Vietnam Cross of Gallantry with Palm Medal, and the Vietnam Staff Service Medal First Class.
Listermann presented Lipphardt with a Louisville Slugger Bat, embellished with his name and motto of "Follow Me."
Lipphardt is slated to be sworn in as the National Commander in Chief of the VFW in Louisville, Kentucky. The bat is a reminder that Lipphardt walks softly and carries a big stick.
Lipphardt stressed the courage shown by the members of the VFW. "They placed their bodies between the bullets of our enemies and these shores," expressed the National Jr. Vice Commander in Chief.
Also, high principles such as love of the nation, and love of our country's flag are without a doubt held by VFW members. Our flag belongs to the people of the nation and represents liberty. It is not just a piece of cloth.
Lipphardt explained that the VFW advocates for the Veterans of Foreign Wars. Going to war changes people, and they are not the same people when they return home. "I am a Vietnam veteran, and people ask me what years I served there. I tell them I was there in '67, '68, '70, and '71. I went back a second time even though I didn't like it the first time. I can honestly tell you that when asked when I was in Vietnam, I was there last night," declared Lipphardt.
"My life's mantra is 'believe in what you do and do what you believe,'" stressed Lipphardt. His loyal wife and traveling companion, Carol, accompanied him to the award ceremony. The couple is looking forward to celebrating their 56th wedding anniversary on February 24.
Click here to read the bio of Al Lipphardt, VFW National Jr. Vice Commander in Chief.
Commander Listerman said the HSV Post would focus on bringing in additional members this year. Interested individuals may contact VFW Post 10483 by email or phone. Click here to visit the HSV VFW website.
HSV VFW Post 10483 Contact Information
501-301-4304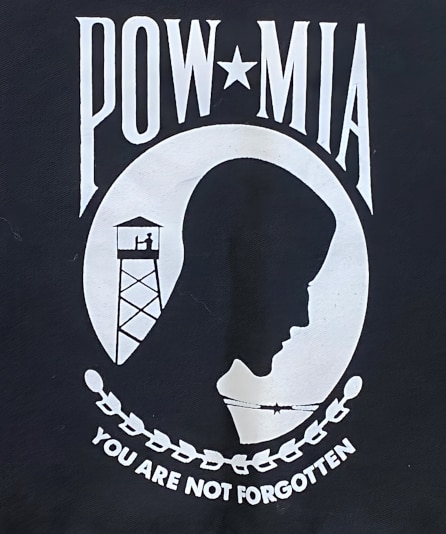 Article by Cheryl Dowden; Photography and videography by Joe Dowden