The topic of May's HSVPOA Coffee With Police Chief Ricky Middleton was LifeNet ambulance service. LifeNet is the company that has provided advanced support ambulance service in Hot Springs Village since 2009.
Andrew Jones, Jr., of the Hot Springs Village Citizens' Police Academy and retired Chicago, Illinois Police Officer, began the meeting with the Pledge of Allegiance before introducing Hot Springs Village Police Chief, Ricky Middleton.
Chief Middleton said, "One of the services we have here in the Village is our ambulance service. We hope we never use them, but they are a great asset if we need them. I have Matt Scroggins who is the Operational Director for Hot Springs Village LifeNet here this morning."
Patient Care is First
Thirty-six-year-old Scroggins said, "I am a young guy. Been here the last fifteen years." Scroggins said he brings his core values to LifeNet. "We like to build a rapport with people," explained Scroggins
LifeNet values patient care and believes in treating the patient like family. Scroggins said he is a public servant and is here to serve you. He said the Villagers are the shareholders of the company. LifeNet employees take care of the customers, which in turn take care of the LifeNet employees.
It depends on the situation, but an important part of the LifeNet medics' responsibility is comfort care. This means the medic tries to put the patients at ease and calm their fears.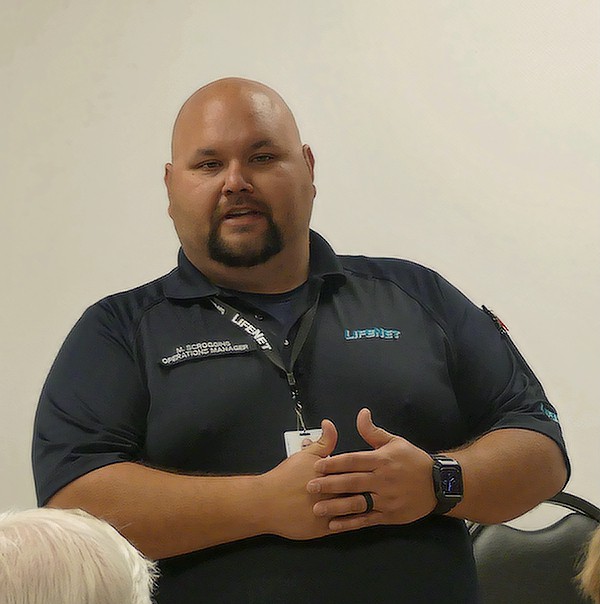 If you call LifeNet but then decide you do not want to be transported to the hospital, as long as you are lucid and able to make the decision, you are not obligated to accept transport.
Once LifeNet has transported you to a hospital, they do not wait for you and bring you back home. The medics need to return to the Village as quickly as possible in order to be available in case someone else needs the service.
HSV LifeNet Medics Work in a Unique Environment
Originally Scroggins was afraid to work in the Village. He said to work in the Village you need to be experienced. and dealing with the Village and Villagers is a unique experience. There is also a very long ambulance transport time.
Scroggins said he can turn two or three calls in Hot Springs compared to only being able to do one call in the Village because of the distance to transport. "We get to treat people longer and take care of people. You actually get to do more as a paramedic in the Village. You have a lot more independence in the back of that truck because it is just you and your patient."
The majority of the call volume is of a public assistance nature. This may involve lifting people who have fallen. There is no charge for this service.
The patient can request that lights and sirens are turned off before the ambulance arrives in their neighborhood.
Resident Benefit Program Subsidizes LifeNet
On the Village utility bill, there is a bimonthly line item charge of $14.75 for ambulance service. This money pays to house a third ambulance in the Village. When you call 911, the closest unit that is available is sent to your location. This charge adds up to around $60,000 a month subsidy for LifeNet. The LifeNet employee wages, overtime, and paid benefits are over $100,000 a month.
There are not enough calls inside the Village gates to "keep the doors open" without the bimonthly subsidy of Hot Springs Village Residents. LifeNet also responds to calls in Jessieville, Fountainlake, Lonsdale, and other areas outside of the gates because:
Providing ambulance service outside the gates is the right thing to do
The cost to Villagers for the Ambulance Benefit Program would be much higher if the service was only for those living within the gates. There is not enough run volume or revenue to support the service only within the Village. Fifty percent of LifeNet's calls are inside the gates.
As a non-profit company, if LifeNet makes a profit they are required to put that money back into the company in the form of supplies, raises, and equipment.
Where Are You Covered?
Scroggins said that LifeNet covers you anywhere LifeNet offers ambulance services. LifeNet provides services in certain areas of Arkansas, Oklahoma, and Texas.
Additionally, if you have a guest at your home, they are covered by the service.
How Much Does it Cost to Use LifeNet?
LifeNet charges the insurance company and then writes off the rest of the bill. There is no out-of-pocket expense.
If the insurance company denies your bill, LifeNet will appeal it once, if not twice. It has to be medically necessary for LifeNet to transport you in an ambulance to the hospital in order for the insurance company to pay.
Response Time and Call Volume
LifeNet must respond to Priority 1 Emergency calls within 8 minutes and 59 seconds. A Priority 1 Emergency is a most life-threatening issue such as cardiac arrest, chest pain, shortness of breath, a stroke, and seizures. LifeNet has not missed a response time since 2009. They are required to be in compliance for 90% of their response times.
The Village has a lower call volume than some other areas. Scroggins said, "On average they run four to six calls for each truck in a 24-hour period. Sometimes less."
Village LifeNet Medics Are Experienced
Over half the Village LifeNet employees are 15-20 year plus veterans. "I have 15 years and I am about the middle of the ladder in experience. There are several medics out here that are within two or three years or less of retiring," stated Scroggins. "The Village has some of the most experienced EMS crews in the state of Arkansas. An EMT career used to be seven years, but now it is about two or three due to stress and workload. It is outstanding that the Hot Springs Village LifeNet medics are so experienced."
Three Dispatch Locations
There are three paramedic-level ambulances inside the gates that are staffed 24 hours a day, 365 days a year.
LifeNet ambulances are stationed at the following locations:
Calella Station Area – this is the base location
Cortez Fire Station
Balboa Fire Station
Helicopter Service
The majority of the time, it may be faster to be transported by regular ambulance. Usually, only one or two patients a month are transported by helicopter.
Be Sure to Tell Dispatcher You are Located Inside Village Gates
When calling for emergency services be sure to let the dispatcher know you are located within the Hot Springs Village gates. Doing this guarantees the call will be routed to the Hot Springs Village Police Department who will then forward the call to Hot Springs Village LifeNet.
Smart 911 is a service that provides detailed information to first responders. Once you've signed up for Smart911, first responders will be aware of the important information you have provided that will help Police, Fire, and EMS locate and help you in an emergency. To create a free Smart 911 profile click here.
Renewing the Ambulance Service Contract
At the end of 2022, the Hot Springs Village LifeNet contract expires. Hot Springs Village POA will put out a proposal for bids for ambulance service within the next month and there will be competing bids. Scroggins asks for Villager's support for the renewal of the LifeNet contract. LifeNet wants to continue to serve Villagers.
A number of meeting attendees attested to the good service they received from LifeNet. One Villager said, "The service is unbelievable. I don't know that you would find it anywhere else."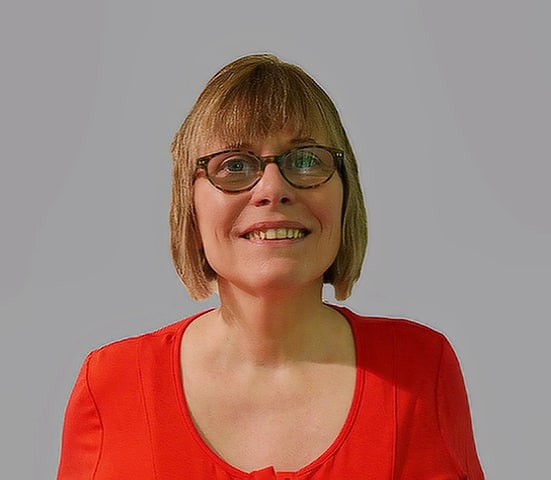 Cheryl Dowden, Publisher
hsvgazette@gmail.com