Hot Springs Village POA General Manager Kelly Hale takes his opportunities when afforded, and at the HSV Evening Lions [E-Lions] Club's regular meeting this month (November 17, 2022), that is exactly what the GM did. Hale, never one to mince words or beat around the bush, imparted a sobering but hopeful message to the E-Lions. Not only has Hale been on a quest to enlighten the outside community about the needs of Hot Springs Village, but he has also begun a laser-sharp focus on sharing some somber but optimistic facts with small groups of Villagers. Hale had already talked to two other groups the same day he addressed the E-Lions.
Hale possesses the rare ability to present a serious topic but at the same time also intersperses the subject with lightness and levity that educates the audience while keeping them entertained and engaged.
Hale said, "Many of you know that I don't do social media. So say what you want. I am not going to read it anyway. I come to events like this so I can get my word out and talk to people, and answer questions… We try to have a hands-on, grassroots effort because I believe that is really how you run a community.
"I told you all my history in the past. I didn't move here to take the job. I moved here to retire. I had a job – spent 37 years doing it. I felt I earned the right not to do it anymore, but after coming here for five years, the opportunity presented itself, and then I had a group of gentlemen that approached me about taking this job. I did not want to do it. It is nothing against the Village. I wasn't in the mood to do it at the time. This is more of a labor of love for me right now in a lot of ways."
Hale said he has a great staff, and he tells both the community and his staff how great they are every day. "We have done a complete rebuild of the POA… There was nothing wrong with the people that were here before, but they may not have had the right mindset of what we are looking for," explained the GM.
Hale said he looks at the POA from a member's point of view and what needs to get done with the money we have. "There has to be a realistic approach," said Hale.
Hale took inventory, and his first task after taking the job was building a team. "We got the people who didn't want to get on board and get the boat to row fast, we let them off at the shore. Some of them we let swim back to shore. We filled up the boat with the right people…We got the POA completely staffed where we want it."
He said the POA was short by 104 employees last February, and now they only lack ten positions being filled.
"The POA is not only a government, to a degree, but it is a business," Hale stated. Hale said that the Village is a city, but it is really like a co-op.
The residents of the Village pay over $400 MM annually in taxes to the two counties. This is paid in the form of property tax, vehicle tax, and sales tax. This figure is documented in a study arranged by the HSV Governmental Affairs Committee and conducted by the University of Arkansas, titled "2021 Hot Springs Village Social and Economic Contributions." [Click here to read the article and study.]
"We contribute. How much do you think we get back from the state or the feds? asked Hale.
Hale answered, "we get not a plug nickel back!"
Hale stated that 78% of the millage money that is paid to Fountain Lake and Jessieville schools comes from the Village. "That is a good thing because we are doing our part for the kids. But we've only got 600 kids in the Village out of a population of 16,000," said Hale.
"We are like a government, company, and co-op all tied into one, and somebody has to make the decisions. That is where the Board and I come in… I come from a UPS background where we were very stingy with money – a very frugal company. I brought the same mindset with me to the Village. It is not that we are going to do things cheaply, but we are going to do them very thoughtfully. Before we spend money, we will ensure that we got it right."
The GM said he believes in surrounding himself with people that know their jobs very well and are smarter than he is.
Hale also believes in hiring people who reside in the Village because they have a vested interest. "It is their home. They are here to do what is right for the organization. "I hired property owner Ken Unger, who was an engineer for Horizon. Unger is the Director of HSV Public Services."
"There are many things we have been working on after we rebuilt the team. You can't run an organization without a good team that makes everything happen. We've gotten that done. We got the Accounting Department completely rebuilt. We burned it down to the ground and started over. I didn't know where to start, to be honest with you… We brought in all new people… We just decided to start over," explained Hale
"We have 52 years of an aging community. You see the water main breaks. We have to put money back into the infrastructure," shared Haled.
Most people think all of the aging infrastructures are located on the west end. "You'd be surprised what is on the east end, as well. There was a lot of the east end infrastructure that was put in many, many years ago before they started building homes in the area," said Hale.
Hale said he wasn't there to throw rocks at the Coopers [HSV Developer], but the bottom line is that they installed 12″ or 14″ water and sewage mains on the rock with no sand to cushion them. That is the reason for a lot of the main breaks. We have to go back and be smart about it.
Hale said, "Are we just going to be victims and be the next Jackson, Mississippi? No, we are being very strategic. One – we are saving our money. It may look like we have a lot of money, but we really don't."
"We may have $19 MM, but we need to have about $7 or $8 MM put into reserve accounts. We don't touch reserve accounts. Those accounts are there in case something major goes wrong so that we can get our hands on cash," noted the GM.
Hale said, "the second part of this is, we have to educate Villagers and also the State of Arkansas."
Hale asked, "what are we doing there [to educate the people outside the Village]?"
Hale said he has been spending a lot of time talking to politicians. Just recently, Saline County helped us by applying for a $32 MM grant for water and wastewater. This money comes from the American Rescue Plan Act (ARPA) and provides relief funds to state, local, and tribal governments that have been negatively impacted by the coronavirus pandemic. The State of Arkansas received $288 MM from ARPA, which has been set aside for water and wastewater treatment. We filed matching grant applications to get a portion of this money based on the results of engineering studies contracted by the Village.
"Are we going to get any of this? I don't know. Your guess is as good as mine. But we've never done that before because we were told, 'you are a private, gated community. You are not entitled to that.'"
We received $91,000 in grant money. This was a one-time deal where each of our police officers received $5,000. "The previous administration said we could not get this. 'No, no, you are the new guy.' That is the good thing about being the new guy, I don't know where to stop, and I just keep banging and knocking on doors," exclaimed Hale.
Hale said they poured over the code for the state, and he contacted the Secretary of Agriculture, Secretary of Energy and Environment, etc., and discovered a loophole that doesn't exclude private gated communities.
"We submitted language that made it to the house floor. This will be voted on in January to make Bella Vista and us an exception, without being named, for communities greater than 5,000 in population. This will open up the door for us to be able to file for future grants, not only for the Village but for fire and police as well."
"Many people [lawmakers] in the State of Arkansas are not very aware of us, and we are building those relationships," added Haled. "There is a long row to hoe here, and we must get everybody involved. Here is what we need to do. We need a letter-writing campaign. That may be what we get down to, which is not unprecedented in any way, shape, or form. We need to educate all the members," said the GM.
"Where are we at right now? My estimation is that to fix all the infrastructure – and understand, when we say infrastructure, I am talking roads, culverts, golf courses, tennis courts – if it is built by the Coopers and left for us, that is infrastructure, we need about $70 MM. And it could go a lot higher than that, folks. So when you are looking at the $19 MM sitting there and knowing that $7 MM has to go into reserves, right off the bat, and then there is operating money that is in that as well…"
Hale said that we are not going to spend all of that at once…We are taking a very responsible approach to how we want to do this.
"The other piece of this is that [the cost of] everything is high right now. Inflation is eating us up," said Hale.
Hale said that they have been working on the roads, but some people said, "all they did was put a coating on it." This is called fogging the road. We also took other measures to protect and extend the life of the road when we did the fogging. "This was not your normal, 'putting a coating down,'" expressed Hale.
"We have to preserve what the Coopers left us and make sure that it will last us until we save up enough money to do it later on," said Hale. Some people asked, 'why don't they just repave the roads?'
"When you look around, you can see the beauty of what we have here," enthused Hale.
"I don't want to pay any more money, but we need to have a real conversation with each other… We have to figure out what reality looks like, or it will show up and bite us in the rear end here, real fast. I say this as a member, looking at what I paid where I previously lived."
"What we are paying right now is worth the gate security alone. Forget about all the other bells, whistles, and moving parts that go along with it," said Hale.
The average HOA fee in the United States is about $285 to $297 monthly.
We are playing catchup. "Cooper left in 2006. John Cooper was a visionary when he built this place. We live in heaven on earth, and I love it here. This is my home, and that is the reason I took the job to help out. But the corporate checkbook left in 2006. It was easy to pay $12 a round for golf. It was easy to pay $36 for assessments when you had a big corporate account that could write a check at the end of the year. That is a simple way of saying it, but that is God's honest truth of what was going on. A large corporation. And then they left. And they signed everything over to the POA," explained Hale.
Hale said, "that may not be exactly how it happened, but it is pretty darn close."
"Even at a higher rate of monthly assessments, and I am not talking $200. Don't even think I am thinking that, but even at a higher rate, it is still one heck of a bargain," stated Hale.
"I want to ask of the community, what are you doing already – volunteering your time – giving back into the community to help out in different areas? I can't thank you, folks [the E-Lions], enough for the Balboa Beach Park and playground,"
Already two other groups have asked what project they can do to help the community.
E-Lions President Terry Sterzik presented a Certificate of Appreciation to the General Manager. Sterzik said that for every speaker they have, they donate to a charity in that speaker's name. The E-Lions have donated $100 to the Little Rock School for the Blind in Kelly Hale's name.
Terry Wiley, HSVPOA Director of Parks and Recreation, also received an award. Click here to read this article.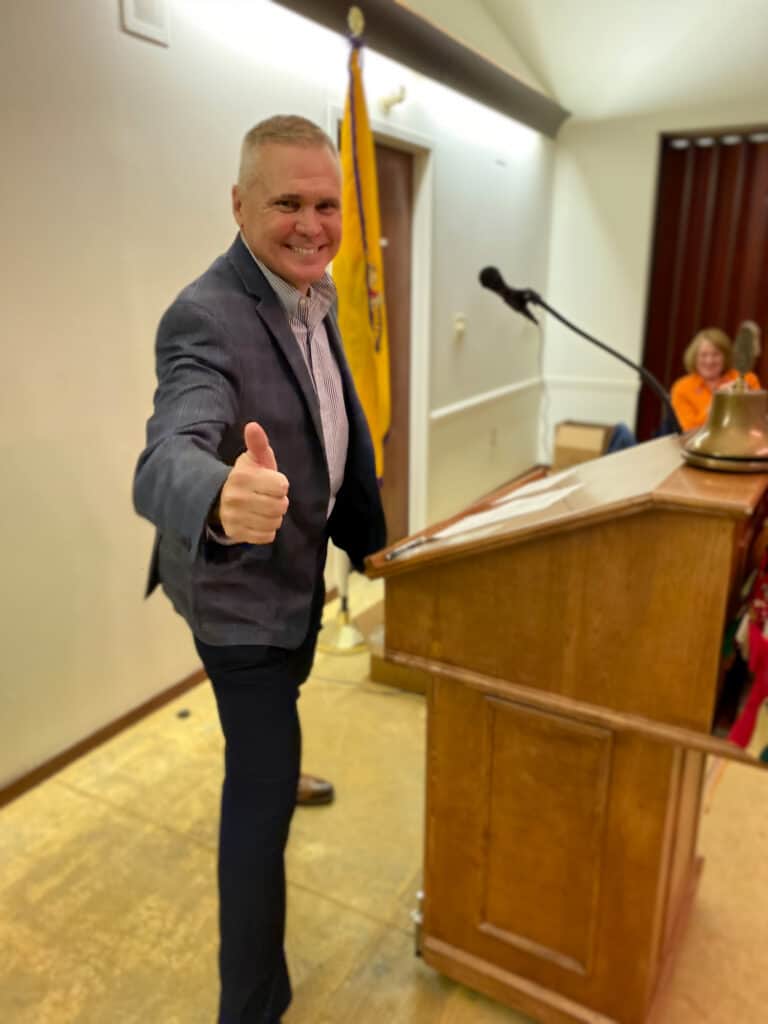 By Cheryl Dowden; Photography by Joe Dowden