You Make a World of Difference
On Wednesday, April 26, the Hot Springs Village POA held the 2023 Committee Appreciation Luncheon at the Coronado Community Center. The concepts of continuing to move forward and also gratitude for the world of difference the volunteers make were emphasized by both the Board Chair and General Manager.
On behalf of the Board, JoAnne (Joanie) Corry, Chair of the HSVPOA POA Board of Directors, welcomed and thanked the volunteers.
Corry said that before COVID, appreciation luncheons were held every year. Two years ago, the Committee Luncheon was canceled due to COVID. This is the first Committee Appreciation Luncheon since 2020, and Corry hopes to have this event every year.
"Thanks to your dedication and hard work with our staff, we have made amazing progress this past year. Our General Manager, Kelly Hale, came on board in February of 2022 and immediately went to work to address deferred projects and facilities that were in real need of improvement, repair, and attention," said Corry.
Corry said the committees were ready to help staff and ensure the work was completed.
"We still have a long way to go, but with your creativity, knowledge, and input, we have come farther than we ever anticipated. It has been a whirlwind year."

JoAnne (Joanie) Corry, HSVPOA Board Chair
The Standing Committees consist of:
Architectural Control
Common Property, Forest, and Wildlife
Communications
Finance and Planning
Golf
Governmental Affairs
Lakes
Parks and Recreation
Public Services
Trails
Corry also thanked the service of the ad hoc committee members. The ad hoc committees consisted of members from the standing committees.
Ad Hoc Cooper Land Evaluation – This committee researched and analyzed dozens of CCI-owned [Cooper Community Incorporated] properties and provided the Board with an in-depth recommendation on property acquisition.
Ad Hoc Rules & Regulations – This committee reviewed the current Hot Springs Village Rules and Regulations and is making recommendations to the Board at the 2023 Board Retreat. The Board Retreat is scheduled for Tuesday, May 2, and Wednesday, May 3, at the DeSoto Club. The public session begins at 8:30 a.m. on May 2. The Session on May 3 is closed to the public.
"The ad hoc committee members took on a second committee position, which was very much appreciated. As you know, the Board listens to what the ad hoc committees recommend, just like we listen to recommendations from the stading committees."

"Changes were made to committees in the past year. In July 2022, the Board aligned most committees and committee charters to reflect that our standing committees are Board Committees. Each committee's purpose, organization, and appointment were aligned to ensure Committee Members are working together with the Board and Staff Liaisons so that we focus on the priority projects that we need help with and where your assistance is needed the most. We appreciate you continuing to work with the Board and Staff to ensure our goals are met and that we continue moving forward to address the needs of the Village. Please know that the work you do and the time you give to our community does not go unnoticed. The Staff, Board, and your community appreciate your dedication and commitment to Hot Springs Village. We look forward to an exciting year and continue to need you, our Committee Members, to help us meet our goals."

JoAnne (Joanie) Corry, HSVPOA Board Chair
Corry also thanked the retiring Committee Members.
"Our Committee Members make a world of difference, and on behalf of the Board of Directors, it is my honor to say, 'thank you,' stated the Board Chair.
Corry said she would be remiss if she did not thank Katrina Heap, Executive Assistant to General Manager Kelly Hale. Corry said that Ms. Heap makes everything 'go round and round.' She is the one who organized the luncheon.
"Katrina is my right-hand person. She is a phenomenal team member, and we want to recognize her for everything she does for myself and the Board."

Kelly Hale, HSVPOA General Manager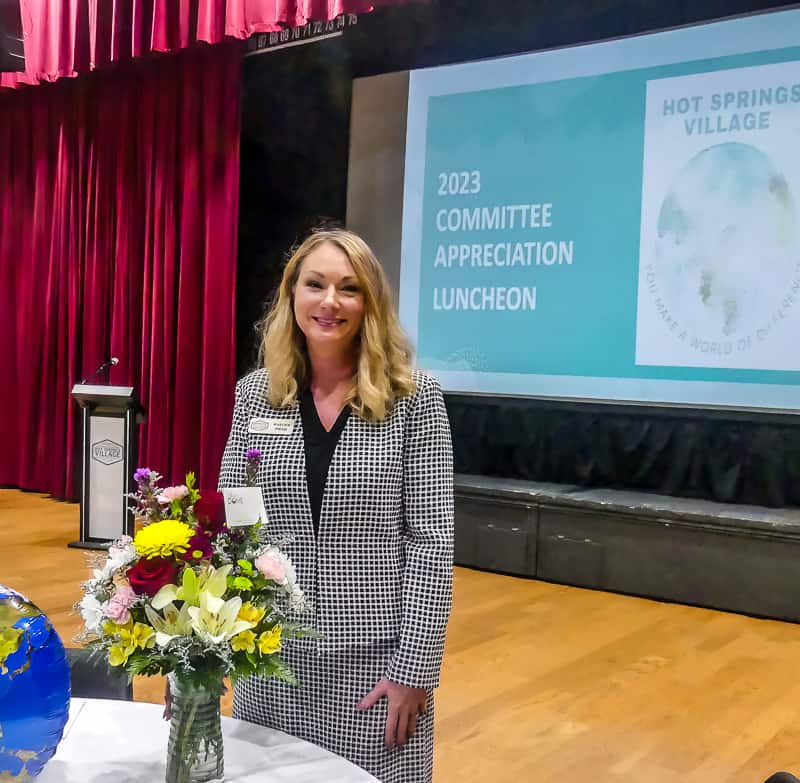 Bob Shoemaker led the prayer, also expressing appreciation for the Committee Members. Shoemaker said that Hot Springs Village is special because all these men and women give so much of their time and talent behind the scenes, often unnoticed.
In closing, Kelly Hale stated, "I appreciate you coming today and being part of our team. We are here to celebrate all of you. It has been a unique journey for me, coming into this role. I always tell people, 'I did not move here to take a job. I moved here to retire and take care of my mom and my mother-in-law and enjoy the retirement I earned'. But I did not like what I had been seeing for five years. I was a property owner here long before I relocated. I knew this was the place I wanted to be. But there were many things we needed to take care of right away."
"Our objective right now is to move forward. The past is only something to learn from. We want to learn what we did right, what we did wrong, and not do those same things or repeat the things we did well…but, to get over whatever we've got in our gut and move forward very quickly," said Hale.

Kelly Hale, HSVPOA General Manager
"Whether helping out our Public Services Department, helping to meet our infrastructure needs or evaluating permits through our ACC group [Architectural Control Committee], or viewing budget plans with our Finance and Planning [Committee], working on trails, common property, and others, the things that the committees do are very important. We could not be successful as a group without you with your expertise, commitment to following the community's expectations, and taking care of our home," explained the GM.
"This is the message I will continue saying until the last day I am in the GM chair. This is about our home. This is about us operating as a community and I use the word, 'co-op.' I am not rebranding or anything like that, but when you look at the definition of a co-op…they are communities that keep the cost of living down. They share available resources and they get together and run the community because they have a venture interest. It is their home."

Kelly Hale, HSVPOA General Manager
Hale said, "We have accomplished remarkable things in a short time. I always want to use the word, 'we.' People tell me that I am doing a great job, but it really should be, 'We're doing a great job because I can't do this by myself.'"
Hale asked for the Committee Members' help in recruiting leaders. "I believe if everybody does just a little, nobody is inconvenienced and gets much more done quickly."
"The Board of Directors and I are committed to fixing our great community. Hopefully, you have seen that we have been living up to that committment every day.

"Hot Springs Village is the greatest place in the world to live.

"How we talk, act, and help each other makes our community better than anywhere else.

"We are going to have a fantastic 2023 and outstanding 2024. I can feel it. I know it. Our community is back and we are ready to go."

Kelly Hale, HSVPOA General Manager
To celebrate and remember the day, Committee Members received a beautiful key chain and card (see cover image). Also, a $10 gift card for use at the recreational amenities was presented to everyone.
Riverside Grocery and Catering, located in Benton, Arkansas, catered the fried chicken and catfish meal.
By Cheryl Dowden