Previously reported in the HSV Gazette, "Heavy rains on March 3, 2023, caused a devastating mudslide on Jarandilla Drive in Hot Springs Village." Click here to read "Mother Nature Not Kind to HSV – Mudslides Return."
Ken Unger, Director of HSV Public Services, knew that because of the Village topography, it was only a matter of time before something like this happened. We lost a road a few years back. The Public Services Director said the entire road slid down the hill. (Paraphrase)
The HSVPOA Public Services Division completed its effort to stop further erosion on Jarandilla Drive on Wednesday, March 29, 2023.
After unstable soil was removed, Todd Noles, Superintendent of Lakes, Dams, Common Property, and Forestry, oversaw the installation of a combination of rip-rap and PSI 4000 concrete. The concrete was pumped in to ensure all voids were filled and everything was locked together. Before pumping the concrete, two drains were placed under the rock for proper water drainage.
In an effort to keep costs down, Noles utilized materials already on hand when possible. Two of the eight loads of rock used were on the POA grounds, in addition to the blocks finishing the foot of the project. Noles said, "whenever possible, we use what we have available to keep the cost of projects down."
To finish the project, the sides were seeded with a mixture of Bermuda, fescue, and rye grasses and covered with straw.
Jarandilla Drive is now open for public travel.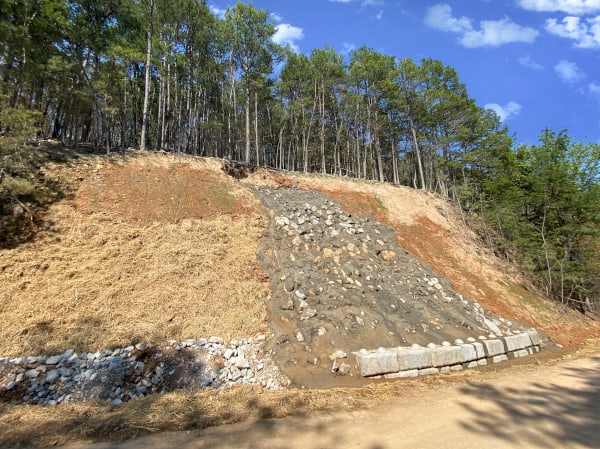 By Cheryl Dowden; Photography by Joe Dowden and Todd Noles