By Jeff Olson, July 8, 2022
When the Hot Springs Concert Band presents its third concert of the 2022 summer series on Monday, July 11, 2022, it will be more than a regular concert for some folks in the band. One of the featured song selections of the concert is Highlights From The Music Man. The Music Man is a classic from both the Broadway stage and Hollywood. The Majestic Theatre and Broadway Theatre productions of The Music Man ran for over three years, from November 1957 to April 1961, completing 1,375 performances. However, there was also a motion picture of this American treasure. Many of you probably already know this, and perhaps have even seen it. If you love it as much as I do, you've likely seen it more than once!
The author-lyricist-composer of The Music Man was Meredith Willson (1902-1984) who hailed from Mason City, Iowa, a small town in the north-central part of the state. Willson had already experienced a prolific and nationally renowned career as a musician, composer, conductor, arranger, author, and radio personality prior to The Music Man. However, The Music Man was his most successful and enduring contribution to America's artistic and entertainment culture and certainly his most enduring legacy to his home state and country. He called the Music Man "an Iowan's attempt to pay tribute to his home state". That he certainly did!
Willson never forgot his roots nor lost his love for his beloved Mason City. For a number of years he visited his hometown for the North Iowa Band Festival, an annual event since 1928 celebrating music with a special emphasis on marching bands. During one of those years, 1962, the National Music Man Marching Band Competition and Festival in Mason City was timed to coincide with the world premiere of the motion picture The Music Man at the town's Palace Theater. Bands from all 50 states were invited. One hundred twenty-one award-winning bands from 30 states participated, including more than 8,000 high school musicians and 90 "host" bands from Iowa and Minnesota. In addition, there were more than 13,000 additional visitors who occupied the two-mile parade route. Like his Music Man character Harold Hill, Willson played the role of drum major as he led the parade of bands through town. The parade included special appearances by the movie's leading actors Robert Preston, Shirley Jones, Ronny Howard, and Buddy Hackett. Arthur Godfrey was also on hand to serve as Master of Ceremonies for the premiere.
Well, it just so happens that two of our Hot Springs Concert Band members were also in Mason City, Iowa on that Monday and Tuesday, June 18-19, 1962. Band president and principal clarinetist Kathy Hendricks was there and, though her childhood memories are a little dim, she remembers the parade and what a big celebration it was. Why was Kathy there? At the time, her father (Arthur Theil) was the Carrollton Ohio High School Band Director. His band was selected to represent the state of Ohio at this competition. It was indeed quite an honor for the school, especially considering Carrollton was a relatively small, rural community with a population of less than 3,000. There were 109 members in the band along with chaperones who made the 2-day trip to Mason City. Hendricks said that both sets of her grandparents joined her mother, brother and her on this special trip. I might add also that unbeknownst to Kathy was a younger sister Cheri (now the Principal Percussionist for the Hot Springs Concert Band) tagging along but still five months away from birth. Their local newspaper, The Carrollton Free Press Standard, sent a reporter and photographer to record the event. Incidentally, the North Iowa Band Festival still takes place and into its ninety-fifth year.
Mr. Theil, now in his nineties, is currently a resident of the Mount Carmel Retirement Center in Hot Springs Village. Recently, we had an opportunity to visit with him and learn a little more about his life and career in addition to the Mason City/Music Man experience.
Mr. Arthur E. Theil, Jr. was born in Sandusky, Ohio and became active in music at a young age. He learned to play the accordion, saxophone, clarinet and flute, playing in several big bands in the early 1950s. He married his college sweetheart Mary Lou in 1953. Together they raised three children, Kathy, Mike and Cheri, in a marriage that flourished for nearly 69 years. Mary Lou was an accomplished musician herself, also with the clarinet and in voice. Arthur reminisced about how great a player and singer she was, and with pride and a deep and misty reflection shared how she was actually the better player of the two. He then humorously quipped that there was at least one occasion when she had to make that very plain to him, but it was out of necessity he emphasized. All three of their children are musicians. Besides Kathy and Cheri, brother Mike plays trumpet and stays active with playing Taps to honor America's service men and women.
Having also served as band director for three other high schools, Arthur went on to become Director of Bands at Florence State University in Alabama and at the University of Memphis. He retired in 1987 after a remarkable 33-year career in music education. He and Mary Lou moved to Florida where he played in several jazz bands. Mary Lou played in three bands and both of them directed choirs. They moved to Mount Carmel Retirement Center in January 2017. There, they were not only residents but also made it their home and community, serving others with their time, resources and talents. Arthur suffered the greatest loss of his life just weeks ago when Mary Lou passed away. In listening to Arthur speak of her and in what their daughters have shared with me, their marriage was exemplary – one made in heaven and one well-lived and consequential for so many who were blessed to know them. I sure wish I could have met her and included her in this interview with her husband.
In looking back over his long and distinguished career, Arthur stated that what he enjoyed most was the success of his students. Though his bands consistently earned superior ratings at contests, Arthur said he was most proud of his students as they went on to careers of their own. Some of them became notable musicians in their own right. One such example is saxophonist and songwriter Kirk Whalun.
As our conversation returned to 1962 and the Music Man, Arthur mentions that his Carrollton High School Marching Band played Men of Ohio while marching in the parade, and famous march composer Karl King was a judge in the competition. He said that all the participating band directors got to go to the premier of the Music Man at the Palace Theater in Mason City. He then smiled and remembered that during the movie he fell asleep. The rigors of the trip and the kids finally caught up with him, but he still saw much of the movie.
Arthur's memories now return to Carrollton, and beyond The Music Man. He also conducted the Carrollton school jazz band, and he took a moment to brag on his kids about the time their band was invited to play on the Mike Douglas Show, a favorite national daytime television talk show of the time. However, even with this and so many other successes, it was the trip to Mason City, Iowa in 1962 that remained the highlight of Arthur's career. As much as I would like to keep writing about this special man and his career and family, I have to close at some point. But before I do, I have to add one more thing. As I was sitting down to begin my conversation with Arthur and daughter Cheri (who graciously agreed to take notes for me), The Music Man was about to start on television. Coincidence perhaps, or maybe a God-wink. Either way of course we couldn't turn it off. It made a fitting backdrop to our time together as Professor Harold Hill conned the good and mostly gullible people of River City, Iowa.
I believe that most communities have their own version of a music man or perhaps woman. He or she will be manifested in various ways and with different degrees of talent, but each nevertheless leaves an enduring mark on the hearts, minds and personality of the community. Mr. Robert Meredith Willson and Mr. Arthur E. Theil, Jr. were two such men, and you could even count Harold Hill among them. Yes, Harold was a con man but in the end he left River City a much better place than he found it. No doubt, this can also be said of Arthur Theil, but in a much larger and of course real sense because of the tremendous scope and extent of his legacy which has endured and will continue to for generations to come.
We hope you will join the Hot Springs Concert Band this Monday, July 11 at 6:30 pm for Highlights from the Music Man and ten other great songs and medleys you will enjoy. Due to forecasted excessive heat, the concert has been moved to the Fountain Lake School auditorium located at 4207 Park Avenue in Hot Springs.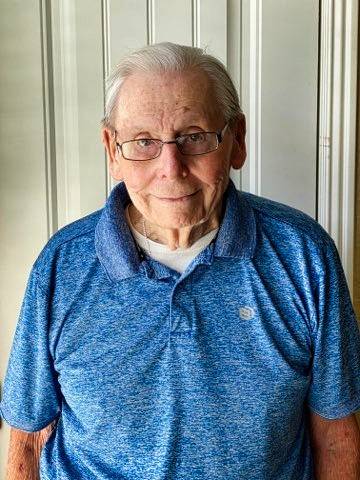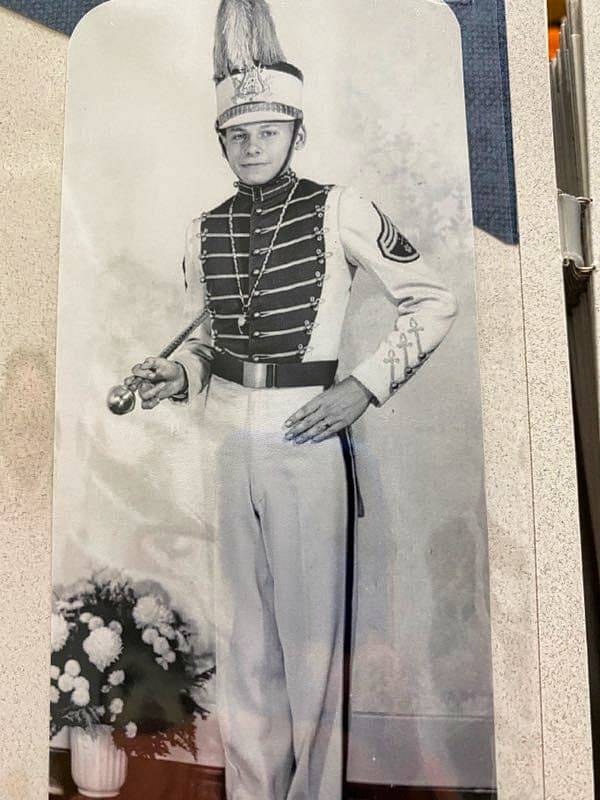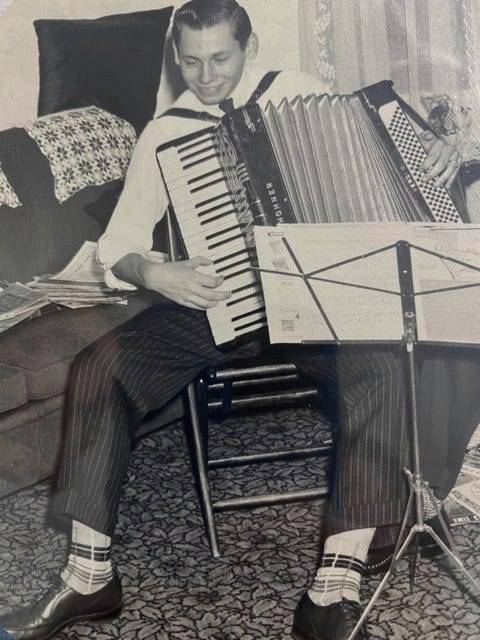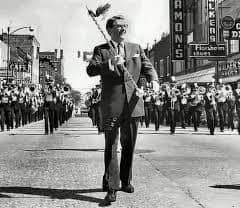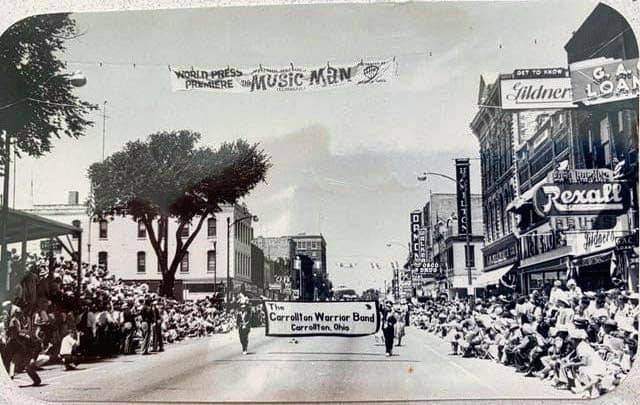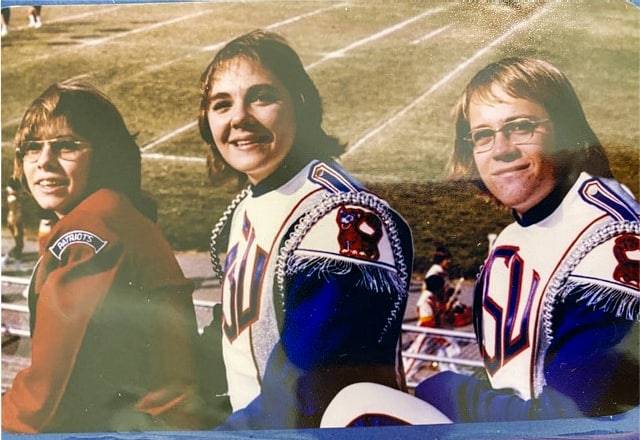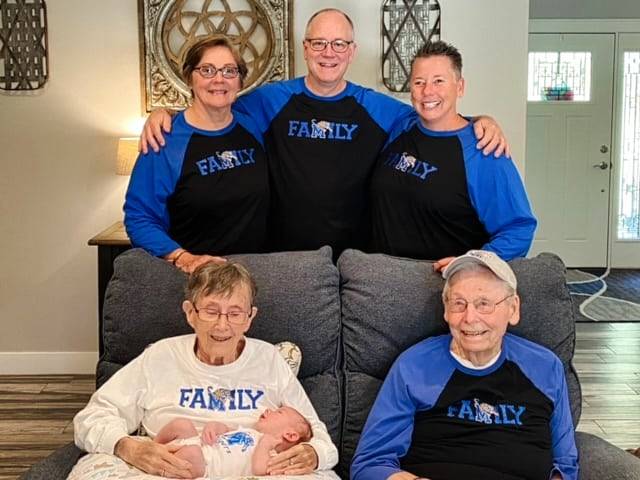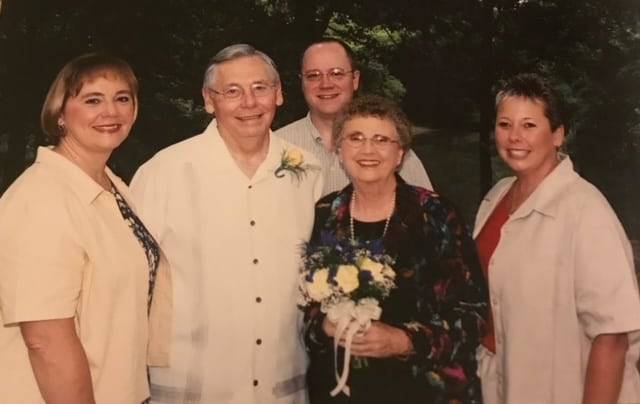 " Mr. Arthur E. Theil, Jr. today"
"A young music man as a drum major for the Sandusky, Ohio High School Marching Band"
"Arthur playing his accordion at home in the early 1950s"
"Meredith Willson leading the National Music Man Parade"
"The Carrollton Warrior Marching Band playing "Men of Ohio" in the National Music Man Parade"
" The Carrollton, Ohio Marching Band on its way to Mason City, Iowa"
"The Theil Kids: (L-R) Cheri, Kathy, Mike"
"Arthur and Mary Lou become great grandparents."
"Theil's 50th Anniversary"