Mr. Jeff Thatcher, son of the World War II era, Ruptured Duck's flight engineer, Staff Sgt. Jeff Thatcher, shares memories his father passed on to him before his passing during an unveiling ceremony for the new Ruptured Duck artwork, Apr. 17, 2017 at Wright-Patterson Air Force Base, Ohio. In addition to the unveiling, the B-1 aircraft was also christened by the Thatcher family.(U.S. Air Force photo / Wesley Farnsworth – Public Domain)
Tuesday, May 9, 2023 – 7:00 p.m.
Ouachita Speaker Series is pleased to present Jeff Thatcher, son of Doolittle Raider Sgt. David J. Thatcher, engineer-gunner on Crew #7, the Ruptured Duck. General Admission tickets are $20 each. Note: The Gus Lee presentation has been postponed and replaced with this presentation. For additional information, contact Amy Thomason at [email protected].
The program is being held at the Woodlands Auditorium, 1101 DeSoto Boulevard, Hot Springs Village.
Click here to purchase tickets.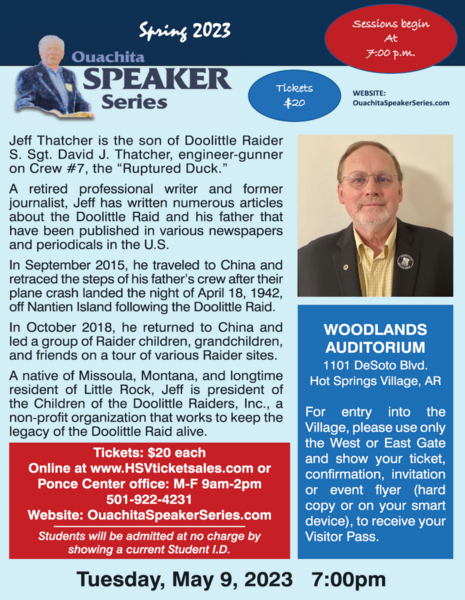 Don't live here but would like to check us out? For more information and to book a Discovery Package or Day Tour, visit https://www.explorethevillage.com to begin exploring Hot Springs Village.
Schedule a golf round or a Stay and Play Golf Package here.
Go here to check out the Official HSVPOA Facebook Page.
Go here to join my Property Owner Facebook Group.