REFLECTIONS FROM HISTORY AND FAITH
BY JEFF OLSON
One of the most famous and inspiring battle cries in American History is "Remember the Alamo!" I would venture to say that very few Americans haven't heard this, even though perhaps some who have may be unable to place it in its correct historical timeline and context.
Of course, there are other battle cries, some lesser-known, which nevertheless were important and played major roles in our nation's journey. One of those I wish to highlight in the next several paragraphs. Though it has been overshadowed by Remember the Alamo, it most effectively served in tandem with it to further grow and galvanize General Sam Houston's Army of Texas' resolve and determination to defeat Antonio López de Santa Anna and win Texas independence. This is a story that deserves to be told, retold, and never ever forgotten.
In 1835, Mexico operated two major garrisons within its Texas territory: the Alamo at San Antonio de Bexar and Presidio La Bahia near Goliad. Béxar was the political center of Texas, and Goliad was geographically halfway between it and the major Texas port of Copano. Military and civilian supplies and military personnel were usually sent by sea from the Mexican interior to Copano Bay and transported overland to the Texas settlements.
Because of its strategic location, Goliad played a significant role in the Texas Revolution (October 2, 1835-April 21, 1836). Here I will briefly highlight one chapter of this, one which is both reprehensible and despicable at its core but, most importantly, quite consequential in its contribution to Texas independence.
In the days following the fall of the Alamo, Mexican forces under Santa Anna continued to sweep across Texas toward Fort Defiance in Goliath, which had been seized by the Texans the previous October during the Battle of Goliad.
Though Colonel James Fannin received orders from General Sam Houston to relieve the Alamo, Fannin believed the logistics to do so were not workable and that his meager number of troops couldn't possibly change the outcome of the battle there. Instead, Fannin dispatched most of his force to aid Texans near Refugio. After learning of the Alamo's defeat, General Houston ordered Fannin to evacuate his 400-man force from Goliad and retreat 30 miles east to the town of Victoria which provided a natural defense behind the Guadalupe River. Houston warned Fannin. "The immediate advance of the enemy may be confidently expected. Prompt movements are therefore highly important." Unfortunately, Colonel Fannin didn't respond to the sense of urgency conveyed in Houston's letter, while a 1,400-man army led by General Jose de Urrea closed in on Goliad. Evidently, Fannin chose to postpone his retreat until the return of the forces under Amon B. King and William Ward from Refugio. Upon learning of their capture, Fannin, at last, began his retreat from Goliath on March 19, but by then Urrea's advance riders had already spotted the Texan defenses, and the main army was just hours behind.
It wasn't long before the Texians encountered the Mexican forces. Then… Fannin made a critical tactical blunder. Rather than taking cover in the nearby woods, he ordered his men to form a square on an open prairie near Coleto Creek. While the Texians held their ground for a while, the combination of low ammunition and water and the arrival of Mexican reinforcements during the night made their situation hopeless. Facing certain defeat, the Texians raised a white flag of surrender and were marched back to Goliad. There they were incarcerated in the chapel at Fort Defiance, along with other Texians captured in the area.
Undoubtedly, Fannin expected that his men would be treated as prisoners of war and given clemency. Perhaps Urrea gave him that assurance. If so, that was not within his authority. A decree issued by Santa Anna in December 1835 ordered that all foreigners fighting against the government would be treated as pirates and executed. Urrea urged Santa Anna to be lenient toward the Texians. As Urrea expressed to Santa Anna, "This show of generosity after a hotly contested engagement is worthy of the highest commendation, and I can do no less than to commend it to your Excellency." Urrea wrote in his diary that he" …wished to elude these orders as far as possible without compromising my personal responsibility."
Santa Anna, however, had no intentions of showing such generosity. He ordered the immediate execution of the "perfidious foreigners" and conveyed through a courier to Goliad that Lieutenant Colonel Jose Nicolas de la Portilla carry out his brutal directive. An hour after Santa Anna's execution orders arrived, Portilla received the contradictory message from Urrea to "treat the prisoners with consideration, and especially their leader, Fannin." After an agonizing night of weighing the two instructions, Portilla chose to follow the orders of Santa Anna.
Two hundred eighty-seven years ago, as Palm Sunday dawned on March 27, the prisoners were divided into four groups. While the sick and wounded remained in the chapel, the other three groups were escorted on different roads out of town. To maintain order, they were misled into believing they would be gathering wood, driving cattle, or even moving to safety. As they were ordered to halt a half-mile from the fort, the Texians soon realized what was about to happen. The Mexican guards opened fire. Those not killed by the bullets were slaughtered with bayonets. At the chapel, the Mexicans executed the wounded. The injured Fannin was the last to be killed. His three dying wishes were to be shot in the chest, given a Christian burial, and have his watch sent to his family. Instead, the Mexican commanding officer shot Fannin in the face, burned his body with the others, and kept the timepiece as a war prize. It wasn't until several months later, General Thomas Rusk and the Texian Army gathered the remains of their fellow soldiers and gave them a proper military burial.
Nearly 350 Texians were executed in the Goliad Massacre, almost twice as many as were killed at the siege of the Alamo. The death toll would have been even higher if not for Francita "Panchita" Alavez (wife of Captain Telesforo Alavez), also known as the "Angel of Goliad."Her humanitarian intervention saved the lives of more than 100 Texian prisoners in seven incidents during March and April at Agua Dulce, Copano, Goliad, Victoria, and Matamoros.
The Texas patriots at Goliad did not die in vain. The Goliad Massacre had the opposite effect of what Santa Anna had intended by hardening attitudes toward Santa Anna throughout the United States, further unifying Texas resistance and increasing recruitment of new soldiers into the Army of Texas. Less than a month later, as General Sam Houston prepared his men for the decisive and victorious Battle of San Jacinto, he concluded his impassioned speech with the rallying cry: "Remember the Alamo! The Alamo! The Alamo!" His men resounded a reply with an addendum: "Remember the Alamo! Remember Goliad!"
In 1936, 100 years after the massacre, the Texas Centennial Commission created a series of monuments across the state to honor Texas heroes. The 35-foot-tall pink granite Fannin Memorial Monument was dedicated in 1939 and marks the grave of those Texian soldiers who fell at Goliad. Between the Presidio and the Fannin Monument is the statue of the Angel of Goliad. In March 2004, the descendants of Mrs. Alvarez gathered to dedicate this statue in honor of her remarkable courage and compassion and to memorialize her unique place in Texas history.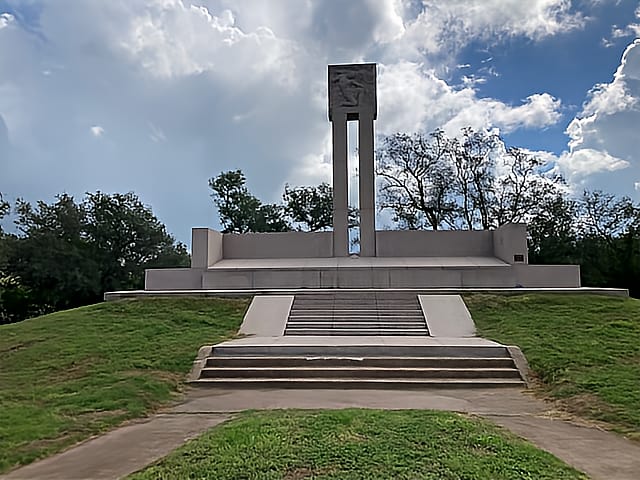 In September of 2022, my wife and I had the opportunity to stop for a time at Goliad during a trip to the Texas coast. It was a little out of our way, but what a small inconvenience to honor such an enormous sacrifice… Knowing this history made our visit such a somber and reverent occasion but also a proud one in that we could personally pay our respects to the many patriots who died there. It was also very gratifying to see first-hand the care taken by state and local folks to preserve and further develop this special monument and historic site – to keep their memory alive in the hearts of the millions who still benefit from the freedom they died to preserve. If you are ever in this area of Texas, I hope you will take a little extra time and veer off the beaten path a bit and pay your own respects. Most of all, I hope you will always Remember Goliad!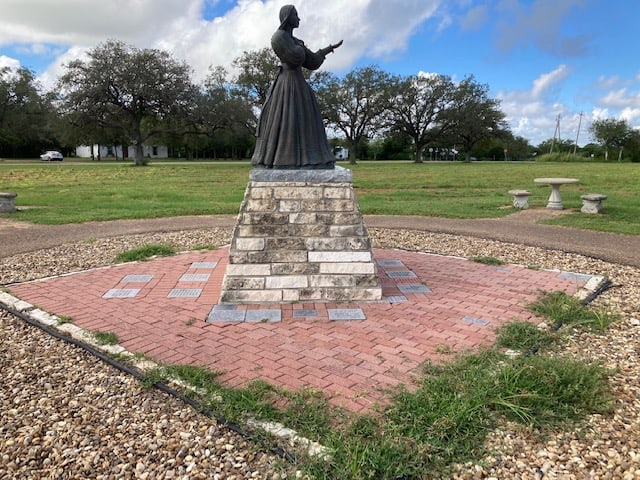 Cover Image: Goliad Museum (photography by Jeff Olson)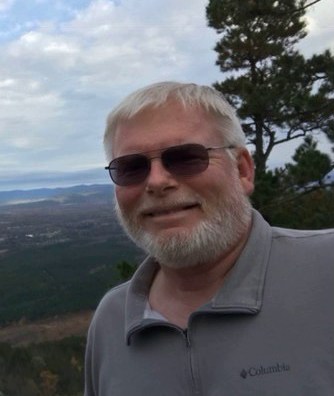 Jeff Olson, Author
Photos by Jeff Olson