Reflections From History And Faith
By Jeff Olson
Waterloo, Iowa is a community located in the northeastern part of the state. It was originally known as Prairie Rapids Crossing. The town was established near two Meskwaki American tribal seasonal camps alongside the Red Cedar River. It was first settled in 1845 when George and Mary Melrose Hanna and their children arrived on the east bank of that river, now called the Cedar River. Waterloo grew into a typical midwestern community of America, borne of immigrants, some of whom came from Ireland. From the days of America's War of Independence, the Irish who came to America and their descendants often gave their full measure of devotion to the land that gave them sanctuary and opportunity. Among those is a family which, to my knowledge, gave the highest level of devotion to their country in its history, before or since. In light of our Veterans Day observation this Friday and the eightieth anniversary of this family's unprecedented sacrifice this Sunday, there is no better time for us to honor them and pay our deepest respects with a few minutes of our time as you read this.
Among the Irish who settled in Waterloo, Iowa were some who migrated from Castletownbere, in West Cork, Ireland, in 1849. Thomas, a grandson from among this group, married Alleta Abel in Waterloo in 1914 at St. Joseph's Catholic Church. They would make 98 Adams St. their home for most of their marriage. They had seven children over the next 17 years, five sons and two daughters. Their last child, Kathleen Mae, died of pneumonia at five months old.
During most of the years of raising their family, Thomas worked as a freight conductor on the Illinois Central railroad and Alleta worked in the home as a wife and as a mother to her large brood, though health limited her on how much she was able to do. With the boys being a rambunctious lot, they earned shall we say a less-than-sterling reputation around town. As one biographer put it: As young men, the five brothers were scrappy and were known for keeping order in their neighborhood.
However, after America's sudden entry into World War II after the attack on Pearl Harbor, the five brothers galvanized with a united and noble purpose as never before. It was then that George, Francis, Joseph, Madison and Albert Sullivan decided to join the Navy. George and Frank had served in the Navy before, but their brothers had not. George wrote to the Department of the Navy in late December 1941, asking that the Sullivans and two other friends from their motorcycle club be allowed to serve together, as they "would make a team together that can't be beat." "When we go in, we want to go in together," said George, the eldest. The Sullivan men adopted the motto: "We Stick Together." "If the worst comes to the worst, why, we'll all have gone down together."
In January 1942, the seven team members—the Sullivans and their friends—began their month-long training at Great Lakes Naval Training Center near Chicago. George became a gunner's mate second class and Frank a coxswain; the three younger boys and two friends who enlisted with them were all seaman second class. The Navy acceded to the Sullivans' wish that they serve on the same ship. Although the Service may not have encouraged family members to serve together, it did not discourage the practice and even emphasized how it might keep families whole. This team of patriotic young men was assigned to the light cruiser SS Juneau (CL-52). It was commissioned on February 14, 1942, with Captain Lyman K. Swenson in command. A press photographer snapped a photo of the smiling Sullivan brothers on board the cruiser. The publicity photo would later become a familiar emblem of American sacrifice.
In August of that year, USS Juneau headed for the Pacific theater, where she would serve in the Naval Battle of Guadalcanal in the Solomon Islands in the southwestern Pacific. Early in the morning of November 13, 1942, Juneau was struck by a Japanese torpedo and forced to withdraw from the battle. Later that day, as the wounded ship was leaving the Solomon Islands area for the Allied rear-area base at Espiritu Santo for repairs with other surviving US warships from battle, the Juneau was struck again, but this torpedo likely hit the thinly armored ship at or near the ammunition magazines and the ship didn't sink, she blew up with all the fury of an erupting volcano, as it was later described. The target of both torpedos was intended to be the USS San Francisco. As Lt. Cmdr. Bruce McCandless recounted in "The San Francisco Story," the Juneau essentially vaporized, and was gone within minutes. On that day, George's words became a tragic reality: The worst did, after all, come to the worst.

George Sullivan, wounded in the first attack on the Juneau, had just returned to duty near the depth-charge racks, while Al and Matt were in the loading room and Frank and Red (Joseph) with the damage control parties. When their ship disintegrated, four of the brothers perished with it. The accident was so terrible that most Navy officials assumed there were no survivors. They were mistaken. At least 100 of the crew of 787 men survived the blast, floating on bits of debris and in battered lifeboats, tormented by sun, salt water, and sharks. Of the ten sailors who were eventually rescued after nine days on lifeboats, all remembered George Sullivan's repeated cries of "Al, Matt, Red, Frank? Where are my brothers?" as he searched the rafts and wreckage for any sign of his siblings. By the fourth day, George's cries had weakened. In delirium, he told a comrade he was going to swim to shore and take a bath. Stripping off his clothes, George plunged into the ocean and was never seen again.
Because the government did not want to give the Japanese any information on any battle losses, the Sullivans family back home did not know for some time that the Juneau had perished. Then, the family got a letter from one of the 10 survivors of the Juneau who had been a good friend of George's on the ship. "I am afraid all hope is gone for your boys," he wrote. "I don't know whether a letter of this sort helps you or hurts. But it's the truth. I saw it."
In early January 1943, gossip circulating through Waterloo compelled Alleta to send a poignant letter to the Department of the Navy: "I am writing you in regard to a rumor going around that my five sons have been killed in action in November. A friend from here came and told me she got a letter from her son and he heard my five sons were killed." She added, "I am to christen the U.S.S. Tawasa Feb. 12th at Portland, Oregon. If anything has happened to my five sons, I will still christen the ship as it was their wish that I do so. I hated to bother you, but it has worried me so that I wanted to know if it was true. So please tell me." When the Waterloo Daily Courier published a headline "FIVE NAVY SULLIVANS MISSING," it included an interview with Alleta. She had hoped that they would "show up somewhere someday soon, but if they are gone it will be some comfort to know that they went together, as they wanted, and gave their lives for their country's victory."
On January 13, 1943, President Franklin D Roosevelt returned correspondence notifying the Sullivan family that, indeed the five brothers did not survive: "The knowledge that your five gallant sons are missing in action against the enemy inspires me to write you this personal message. I realize full well there is little I can say to assuage your grief. As Commander-in-Chief of the Army and Navy, I want you to know that the entire nation shares in your sorrow. I offer you the condolences and gratitude of our country. We who remain to carry on the fight must maintain spirit, in the knowledge that such sacrifice is not in vain. The Navy Department has informed me of the expressed desire of your sons, George Thomas, Francis Henry, Joseph Eugene, Madison Abel, and Albert Leo, to serve in the same ship. I am sure that we all take heart in the knowledge that they fought side by side. As one of your sons wrote, "We will make a team together that can't be beat." It is this spirit which in the end must triumph."
Eight sets of brothers on the Juneau gave their lives eighty years ago this week, November 13, 1942, but the magnitude of the loss to Thomas and Alleta Sullivan of Waterloo, Iowa, was unprecedented. It captured the public's sympathy and interest and elevated the American public's commitment to the war effort to a level beyond what it may have become otherwise. President Franklin D. Roosevelt ordered a destroyer commissioned and named USS The Sullivans (DD-537) for the "Fighting Sullivans." Their mother, Alleta, christened that ship in 1943 with a large shamrock painted on its smokestack. It was the first U.S. ship ever named for more than one person. The lone surviving Sullivan child, Genevieve (1917-1975), became a WAVE (Women Accepted for Volunteer Emergency Service) in 1943 to carry on her family's service with the US Navy. There were other victims who suffered loss as well: Albert, the only one of the brothers who was married, left a wife, Katherine (1922-2015) and a son, Jimmy. Joe left a fiancée named Margaret Jaros, while Matt left behind a fiancée named Beatrice Imperato.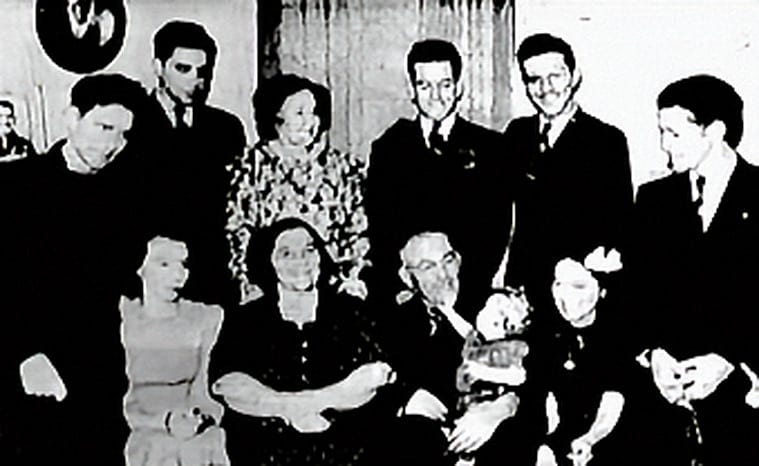 For four months, beginning in February 1943, the Sullivan couple traveled around the United States with a message for the millions in defense industries on the importance of productivity on the home front. They spoke at 235 bond rallies, defense plants, and shipyards nationwide in 65 cities. Alleta Sullivan volunteered for the United Service Organization (USO). Thomas spoke to the nation in a radio broadcast in which he stated: "And we feel we have the right to ask, 'What have YOU given to win this war?" As Alleta told one audience, in remarks typical of the tour: "We have no regrets that our boys joined the Navy. "I'd want them to do it again; it made men of them. I have a little grandson, Jimmy, who is almost two, and when he gets old enough, I want him to join…. My boys did not die in vain."
As enormous a loss as Alleta suffered, her attitude, grace and courage in the midst of her pain and suffering exemplifies and signifies her place as America's most notable and deserving of America's Gold Star Mothers.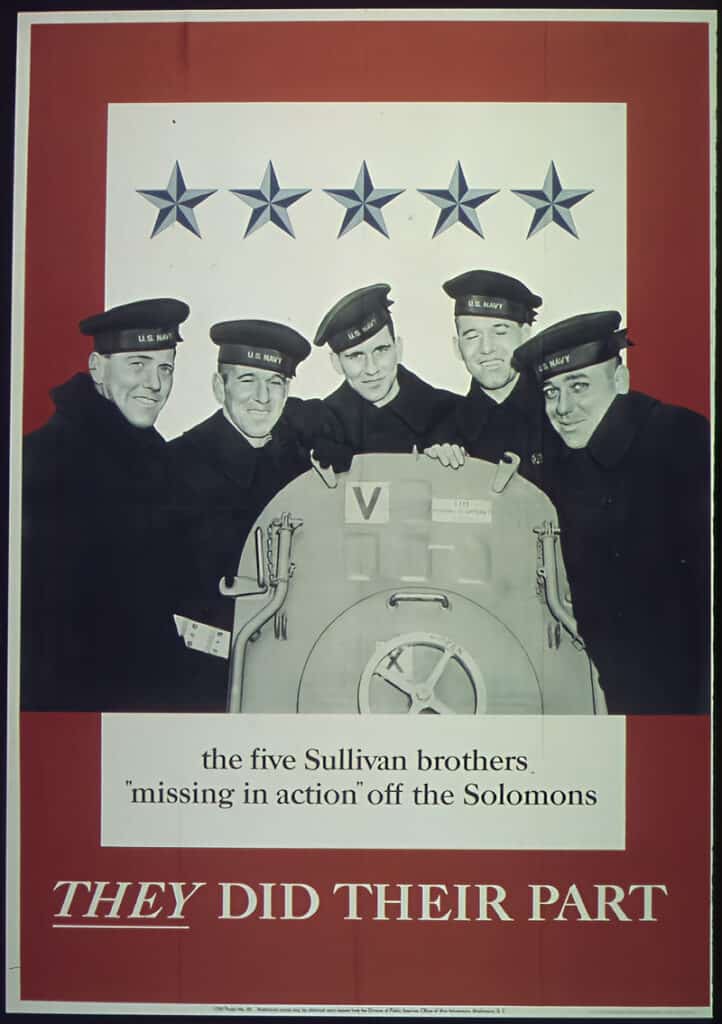 In 1944, 20th Century Fox released a motion picture, originally known as "The Sullivans", and later renamed "The Fighting Sullivans." The tragic story of the brothers' sacrifice further boosted morale as the war would rage on for another year. It also inspired, at least in part, the 1998 film Saving Private Ryan. The Sullivans were also briefly mentioned in Saving Private Ryan.
When the war was over and the publicity faded, the Sullivans surely had many quiet days at home, living alone through the years and with the media no longer having much interest in their lives and losses. However, they would sometimes have unexpected visitors. Some of them were sailors who had known their sons, and other sailors and former sailors who simply knew of them came by to give their condolences. Often Alleta would insist they stay for a while and make them a home-cooked meal. As those still in the Service sat at the table, handsome in their uniforms, it was a deep and poignant reminder of those five handsome young sailors who had once sat around the same table so many years ago. And… if life had taken a different path, the house might have been overflowing with their children and grandchildren, filled with the joy of their love and laughter. Even so, nothing could remove the times when unconsolable darkness burdened Tom and Alleta's last years. This no doubt still reaches across generations, but so does the Sullivan legacy – a legacy that still represents an ultimate sacrifice and inspires our military and military families to this day and beyond.
Postscript: Thomas Sullivan passed away in March 1965 and Alleta in April 1972.
On St. Patrick's Day, 2018, philanthropist and Microsoft co-founder Paul Allen and his team on the research vessel Petrel found the wreckage of the USS Juneau (CL-52)off the coast of the Solomon Islands.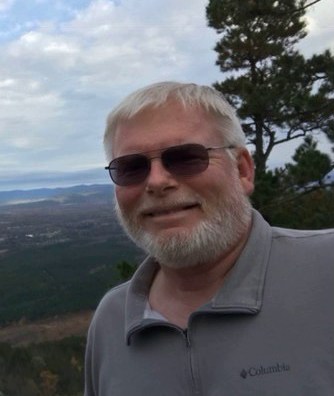 Jeff Olson, Author
Cover Image: The Sullivan Brothers on the USS Juneau on the day of her commissioning, February 14, 1942 (Image in Public Domain)