The Intruders are a Little Rock band that formed 30 years ago at Tulane University in New Orleans. They have been a recognized name on the Central Arkansas music scene for the past 25 years, providing blues, rock, reggae, New Orleans funk, and classic dance tunes.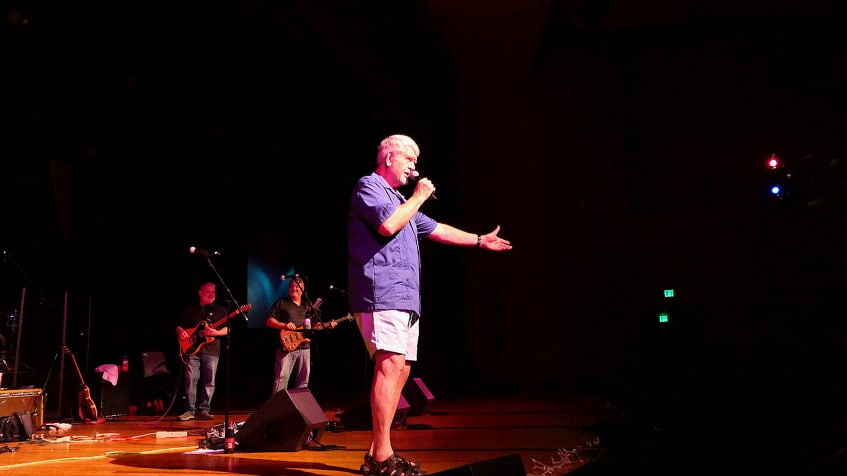 Trademark Real Estate and the Hot Springs Village POA Parks and Recreation Department teamed together along with assistance from Ray Barber, President of the Village Concerts Association, to bring The Intruders to the Village on Saturday, April 30, 2022. This was a free concert that originally was scheduled as a Rock Porch event at Grove Park. It was decided to relocate the entertainment indoors to the Woodland Auditorium due to the threat of rain.  Barber also performed the additional duty of introducing the band.  
The threat of wet weather did not dampen the spirits of either the lively band or the spirited crowd as the band provided two hours of music. The band proved to be not only talented vocalists but were also accomplished at guitar, keyboard, and drums. The crowd sang along, whooped and clapped, danced, and just generally had a great time.
The band members are:
1) Johnny McKay – vocals, guitar, harmonica, percussion
2) Chris Newell – vocals, lead guitar
3) Dave Griffin – vocals, bass guitar
4) Mike Walsh – vocals, keyboards, percussion
5) Troy Baker – drums, percussion
Baker enthused, "We had such a good time playing at The Woodlands Auditorium! What a crowd! No one let a little rain spoil our fun. The crowd's dancing and applause made it one of The Intruder's best shows this year which has included playing the New Year's Eve party at The Arlington and a 2-night stint for the Arkansas Derby weekend at The Arlington. We are appearing Saturday, June 4th at The Beehive in HSV! Come on out again and bring your dancing shoes!
Baker continued, "The Intruders were formed in 1984 in New Orleans, LA at Tulane University. We cut our teeth in the bars, dance halls, musical venues, private parties, weddings, and frat parties of that great city! After college Johnny and Troy grabbed three Little Rock guys and the rest is history!"
Dakota Estes of the Hot Springs Village IT department worked behind the scenes to ensure all of Woodland's sound equipment worked perfectly.
Look for the Intruders at the Beehive Neighborhood Hangout at 220 Minorca Road on Saturday, June 4 from 7:00 to 10:00 PM. Click here to schedule reservations at the Beehive.
Click here to visit The Intruders' website.