By Becky Babineaux, Hot Springs Village Players
Tickets are on sale now for Into the Woods, the HSV Players production of this fun take on fairy tales by the Brothers Grimm. This quirky musical with music lyrics by Stephen Sondheim and based on the book by James Lapine will hit the stage at the Woodlands Theater on June 22-25.
Tickets can be purchased online through the Players' website, hsvplayers.com, or at https://hotspringsvillage.thundertix.com/.
Into the Woods, directed by Kat Clayton and produced by Janis Bremer, is at the Woodlands Theater, June 22-25. Musical direction is by Lynne Border. It is presented through special arrangement with Music Theater International (MTI). All authorized performance materials are also supplied by MTI.
The play is a fun (and different) take on several Brothers Grimm fairy tales that explore the consequences of the characters' wishes and the quests they undertake to make those wishes come true. A baker and his wife want a child, but first, they've got to lift a family curse placed by an ugly old witch. They set off into the woods with a three-day deadline to find the four ingredients the witch demands for lifting the curse.
They meet some interesting characters who are on quests of their own – Cinderella, who just wants to go to the King's ball and somehow ditch her evil stepmother and stepsisters, Jack, who may have to sell his cow "Milky White" unless he can get milk from her, Rapunzel and her witchy "mother," and Little Red Riding Hood, who wants bread for her Granny.
As the plots of these tales are intertwined, the characters learn some of the consequences of their wishes and quests and what comes with getting what you want!
You don't want to miss this fun musical production!
Click here to visit the HSV Players website.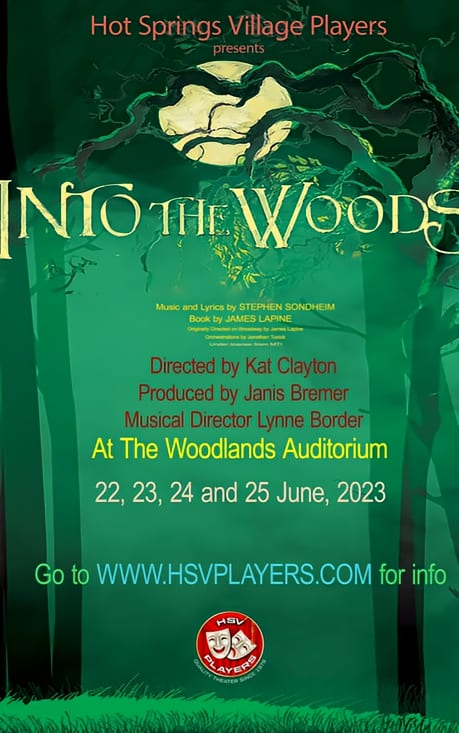 Don't live here but would like to check us out? For more information and to book a Discovery Package or Day Tour, visit https://www.explorethevillage.com to begin exploring Hot Springs Village.
Schedule a golf round or a Stay and Play Golf Package here.
Go here to check out the Official HSVPOA Facebook Page.
Go here to join my Property Owner Facebook Group.