This report contains additional information about the West Gate Accident that occurred on June 9, 2022. Click here to read the first short article and view the numerous photographs of the scene.
At approximately 6:06 PM, Hot Springs Village Police Officer Dallis Downey was dispatched to the area of the West Gate and Highway 7 N. Upon arrival, Officer Downey observed that a red Lincoln Continental had struck the Hot Springs Village entrance sign. Volunteer firefighter, Mike Sykora advised officer Downey that there were three individuals in the vehicle and that all needed medical attention.
The driver of the vehicle said that he was traveling north on Highway 7 N, near the West Gate. He stated that a vehicle in front of him slammed on the brakes and he had to swerve to avoid hitting the vehicle. He said this action caused him to leave the roadway at the north entrance to Health Mart Pharmacy. He then traveled into the ditch and struck the HSV entrance sign. He then drove up an embankment onto DeSoto Boulevard. He said he continued across both of the DeSoto Boulevard entrance lanes and struck the HSV stone entrance sign before stopping.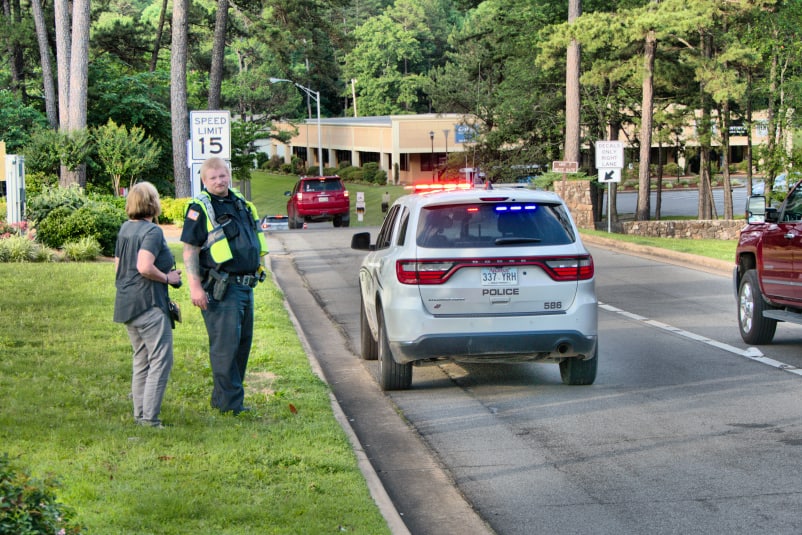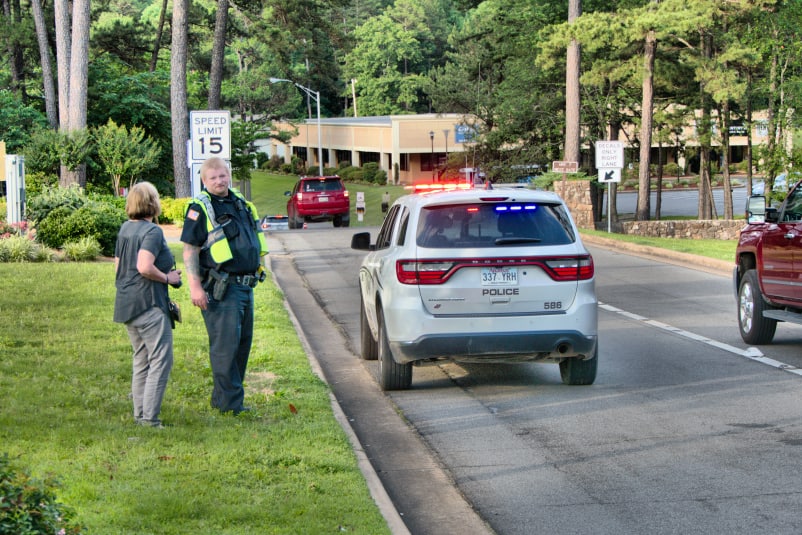 Officer Downey attempted to speak with the other passengers but they offered very little information. One passenger sustained injuries to her head and neck and the other received rib and back injuries. The driver received facial injuries.
Officer Downey said there was approximately $15,000 in damages to the sign. The Lincoln was towed to the Village Shell Station.
Accident Investigation
The accident investigation revealed that vehicle one (the Lincoln) was traveling north on Highway 7, left the roadway on the east side at the northernmost Health Mart entrance. Vehicle one continued north in the ditch for approximately 151 feet while striking the stone structure. Vehicle one then entered DeSoto Boulevard and crossed both east-bound entrance lanes before striking the Hot Springs Village stone sign in the median of DeSoto Boulevard and coming to rest approximately 231 feet from the original location it left the roadway.