Vandalism to freshly-poured concrete at Lake Cortez Boat Ramp
Intentional Destruction to Hot Springs Village Property
Kelly Hale, General Manager of HSVPOA, addressed community vandalism in the Annual Report at April 19, 2023, Board Meeting. Hale expressed,
"If you are here to tear up HSV property, those days are over; we will not tolerate that because it costs all of us."

Kelly Hale, HSVPOA General Manager
Be sure to read to the end as General Manager Hale expresses an optimistic outlook.
Basketball goals
Hale said, "Destruction of the basketball goals was a big deal. Everybody wanted to get online and talk about them. Let me tell you my position on the whole thing. You only have to tear up our community stuff three times before I refuse to put it back up. Basketball goals are free to the public. People allowed community members to destroy our community property. That is why it is called common property. The basketball goals are there for members and guests. What we cannot tolerate is the destruction of our assets."
"I understand things are going to happen, but I want to make it clear to the community – the basketball goals were torn down three times in the 14 months I have been General Manager. If that was your Gorilla Goal that you put up for your kids and the neighborhood kids tore it down, what would you think? How would your response be to your neighbor? How would you go about addressing that? "
Hale said he does not reward bad behavior, nor should this community.
The GM said that he ordered new basketball goals because we will be receiving restitution from the parents of the teenagers that vandalized the goals. This is the way a community is supposed to operate. If you make a mistake, you should own up to it. You fix it and let the rest of the community enjoy the asset.
Golf Course Vandalism
Hale said, "People are out joy-riding and intentionally tearing up our fairways…intentionally tearing up our putting greens…"
Our halfway houses have been damaged by graffiti, the doors have been kicked in, and the sinks have been torn off the wall.
Damage to Lake Isabella Gate Valve
The damage to the Lake Isabella gate valve cost us $36,000."No one admitted destroying the Lake Isabella intake valve, so we could not claim the damage to the person's insurance company. "We know it wasn't the fish that did this. Somebody hit the valve and left the scene without reporting the damage."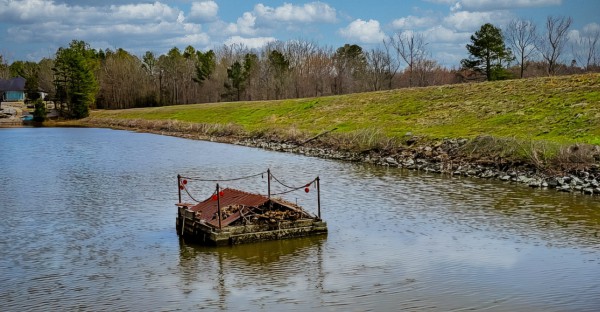 We are a Community
Hale said, "This [Intentional destruction of common property] is not a community. That is people not holding themselves accountable. That is neighbors not holding themselves accountable to each other."
General Manager said we may have turned a blind eye to this type of behavior in the past, but that will no longer happen. "For a community to be strong and on the same page, we must take care of the community ourselves."
"You have to look at things from an ownership point of view. If you want to live here and say that you are an owner in the community and want to be a part of this great community, then there are responsibilities that go with it."
These are all damages that WE, as a community, must fix and pay for.
"No, you don't have to, but we [the rest of us] need to hold everyone accountable to that level. A little bit from everyone adds to the big things we need later on."
Be the Solution – Focus on the Good!
On an optimistic note, there was a positive community response to a recent house fire with HSV Fire Department responding, in addition to Jessieville and Fountain Lake. Many volunteer firefighters were also on the scene to assist. A local church assisted the fire victim, who has no family in the area.
"Find the good in the community. Find the good in your neighbor and look around and help. If you can't, cheer on the ones that can."

"It is a new day, and this year will be fabulous… I ask that everyone be patient and have faith. I have a plan and we are working through it. We will get to where we need to be, and we are going to do it in a financially prudent way. This is the community I moved here to be a part of."

"I appreciate all the support."

Kelly Hale, HSVPOA General Manager
Hale asked people to stop the back-biting and arguing.
Report by Cheryl Dowden; Photography by Todd Noles, Superintendent of Lakes, Dams, Common Property, and Forestry, and Joe Dowden
Click here to check out the Official HSVPOA Facebook Page. Click here to join my Property Owner Facebook Group.
Don't live here but would like to check us out? For more information and to book a Discovery Package or Day Tour, click on https://www.explorethevillage.com/ to begin exploring Hot Springs Village.