TRAILS QR CODE VIRTUAL MARATHON
Do you enjoy walking the Village trails? Would you like to win a Hot Springs Village Recreations Amenities Pass Card? If so, keep reading.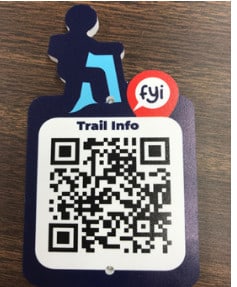 The HSV POA Parks and Recreation Department is hosting a QR Code Virtual Marathon from Wednesday, March 15, to Monday, May 15. Visit our wonderful trail system and use your phone to scan as many Hot Springs Village trail QR codes as possible to win points. The QR codes are located on the trail boxes on the trails. The winner will receive a Recreation Amenities Pass Card (valued at $50).
What are Recreation Amenities Pass Cards?
Recreation Amenities Pass Cards are a way to try up to four different activities in Hot Springs Village. They may be used in any combination of the below amenities.
Coronado Fitness Center: One Day
Coronado Tennis Center: Two Hours
Want a Card?
Winning the Trails QR Code Virtual Marathon is not the only way to get a Recreation Amenities Pass Card. They may also be purchased for $50 for adults and $25 for teens and children under 18 at:
Administration Building: 895 DeSoto Blvd.
Coronado Fitness Center: 160 Ponderosa Ln.
DeSoto Recreation Center/Pickleball: 209 DeSoto Blvd.
Questions?
Questions about the Trails Virtual QR Code Marathon? Contact Ginger, Outdoor Recreation Manager, at [email protected]. No registration is required.