Hot Springs Village celebrated the 4th of July Weekend with several musical performances
ACT I – Wailon and Butch
Beginning on Friday evening, July 1, 2022, the holiday weekend kickoff was at Waypoint Cafe and Marina on Lake DeSoto with an event called 'Rhythm Jam'. This gathering was a double feature, beginning with Wailon and Butch from Bama. Jeff played harmonica and sang vocals, while his partner, Butch was on guitar and also sang.
To accompany the music, the POA fired up the grill, with management grilling dogs and serving sodas. The temperature was a warm 91 degrees in the sun, but a balmy breeze and shade trees helped to keep the crowd comfortable.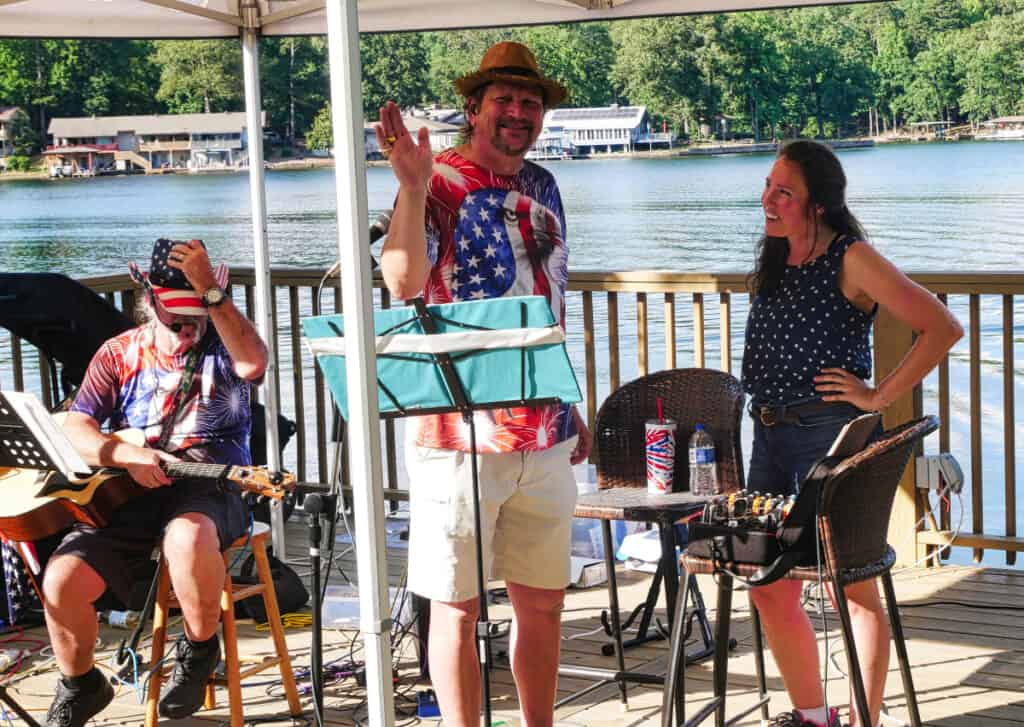 ACT II – Randy Crutcher
The second act for the evening was Randy Crutcher on keyboards and vocals. Mr. Crutcher entertained the crowd with a wide variety of music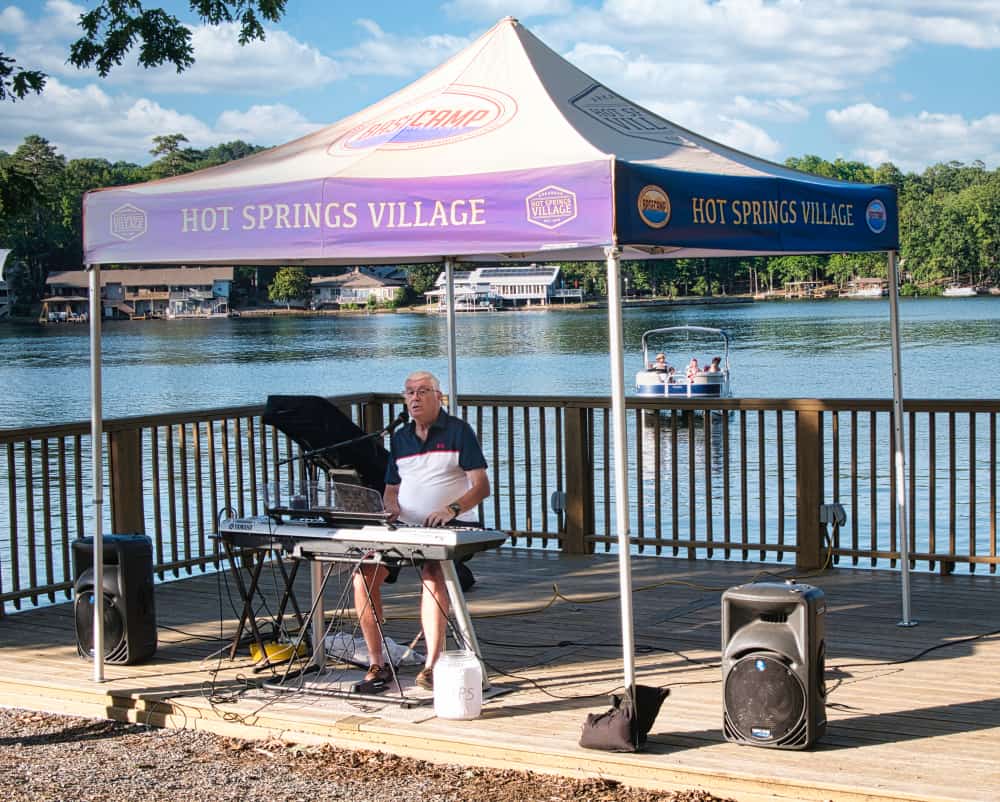 Originally from Memphis, Randy and his wife, Donna, moved to the Village in December of '16. He played in the band "Moonstone" for roughly 35 years. They played mostly private parties – wedding receptions, country club dances, birthdays, and anniversaries. His material ranges from big band music of the 40s to Latin-flavored bossa novas, sambas, and tangos to early days of rock and roll, and a little country to keep everyone happy. Crutcher said his strength is good material and a sense of humor. "I obviously have a lot of 'ham' in me." The Rhythm Jam was the first time he performed in the Village since an open mic night about three years ago.
Look for Crutcher to return to Waypoint on Friday, August 5, 2022, from 5:00 to 7:00 PM.
ACT III – Colt & the Old 45s
On Saturday, July 2, the musical festivities continued with The Colt & the Old 45s. A long-time favorite of the Village and many other places, this group consists of 11 band members including:
Bryan Stout, Vocals, Band Co-founder
Pamela McDaniel, Vocals
Sandee Yancey, Vocals
Hose, Lead Guitar
John Paul, Rhythm Guitar – Band Co-founder
Byron Yancey, Bass Guitar, Upright Bass
Billy Hoover, Keyboard, Vocals, Harmonica
George Faber, Keyboard
Bill Halbrook, Drums, Vocals
Cody Schwartz, Saxophone, Flute, Piccolo
Alvin Walk, Trumpet, Baritone Sax
Dick Eckstein, Trombone
Act IV – Petrella
Moving into day three of the celebration, on Sunday, July 3, Villagers were treated to a performance by Petrella. Petrella's full name is Petrella Ann Bonner Pollefeyt. Petrella has a unique style that she calls 'Country Soul'. She said, "I'm just a Country gal telling a Country Soul tale".
Petrella was born and raised in Hot Springs and has been an HSV Property Owner and resident of the Village since about 1988. She has played at the Woodlands Auditorium, Coronado, DeSoto, and Balboa and has a long-standing relationship with KVRE.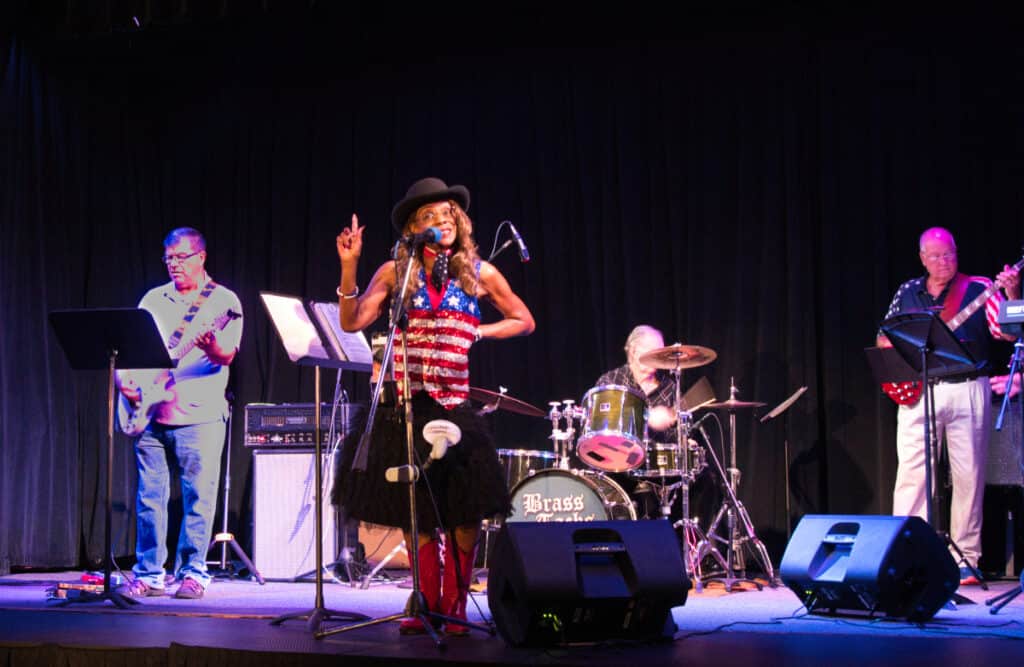 Petrella has released 7 CDs nationally, charted on the top 100 country charts in Cashbox Magazine in 1993, and was featured on the cover of Cashbox in 1993. She has performed extensively around the country and has done many shows and fundraisers in the city of Hot Springs. Petrella was Mrs. Hot Springs Village as part of the Mrs. Arkansas Beauty Pagent and the Hot Springs Documentary Film Festival premiered a documentary film on Petrella in 2014.
Petrella was accompanied by:
Ron Hall, Keyboards Vocalist, and Music Director
Shelly Hall, Backup Singer
Ford Moore, Bass (Resident of HSV)
Kenny Hall, Drums
Scott Vise, Lead Guitar
She was also assisted by her husband, Bob Pollefeyt, who said his position with the group is 'Jack of all Trades'.
Audrey Finlen, Founder and President of The Entertainment Foundation sang the National Anthem before the band's performance.
Help Petrella get inducted into the Country Music Hall of Fame. Snail mail your vote to:
The Country Music Hall of Fame
222 Rep John Lewis Way, South
Nashville, Tennessee 37203
Attention: Kyle Young
ACT V – Jukebox junkies
To finish the musical festivities of the weekend, we made our way over to Balboa Beach. After I dropped Joe off at the beach with all of his camera gear, I drove to Balboa Baptist Church where I parked and caught a shuttle back to the beach. Bus driver, Krissy Hoople, conveniently and safely dropped me off at the beach. There was an almost constant stream of shuttles from Balboa Baptist to the beach, so it is doubtful that anyone had to wait too long for a ride.
Last but not least, the Village was treated to the talents of Jukebox Junkies at the beach. Jukebox Junkies is a band from Texas.
When we were ready to leave, Bus Driver, Otis Breshears performed the duty of returning us both safely to our vehicle, located at Balboa Baptist Church.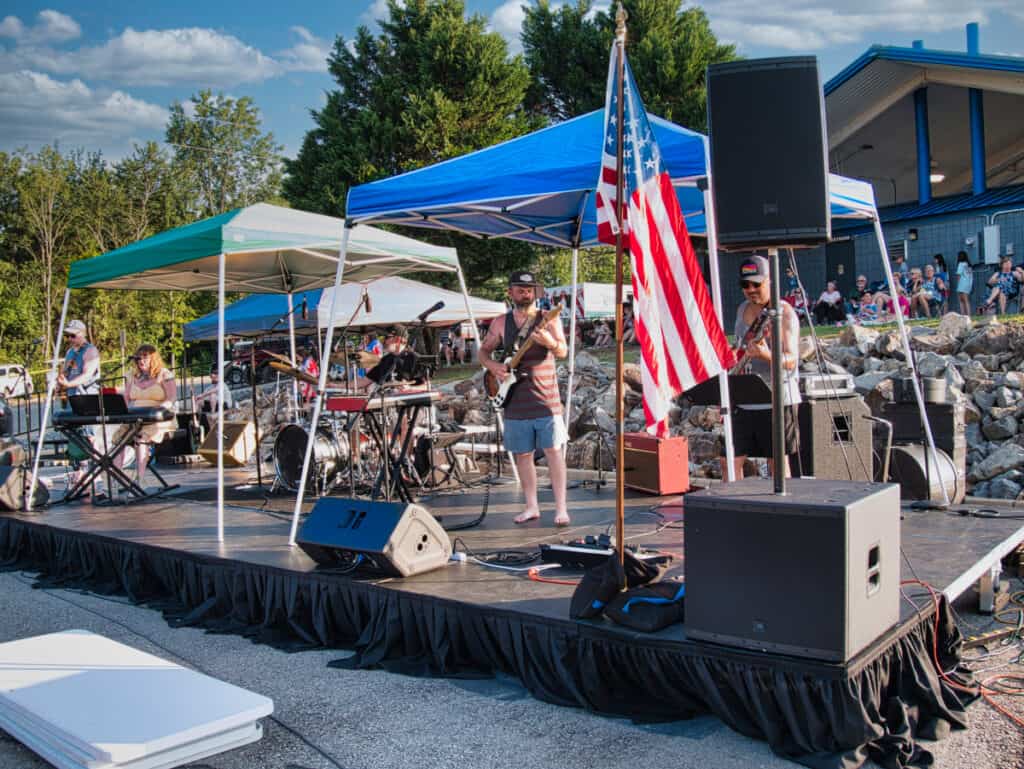 After the concert, the Village POA had a spectacular fireworks presentation.
Thank you to all of the staff, especially the HSVPOA Parks and Recreation Department, led by Director Terry Wiley, for all of your hard work in making the 4th of July weekend one to remember. Special thanks to POA employees from other departments, also.
By Cheryl Dowden, Fireworks Photography by Zachary D. Franklin, Other Photography and Videography by Joe Dowden