Brand New Proprietors Bring You New and Improved Beehive
On January 28, 2023, Hot Springs Village resident Steve Nowak surprised his wife, Judy, with a very unusual gift. The couple was celebrating Judy's birthday at a local hangout called "The Beehive" when Steve dramatically dropped to his knees and presented Judy with a hand-drawn image of the Beehive emblem before a lively crowd of 65 onlookers. Judy was overwhelmed with love and gratitude when Steve announced that they were the new owners of the establishment.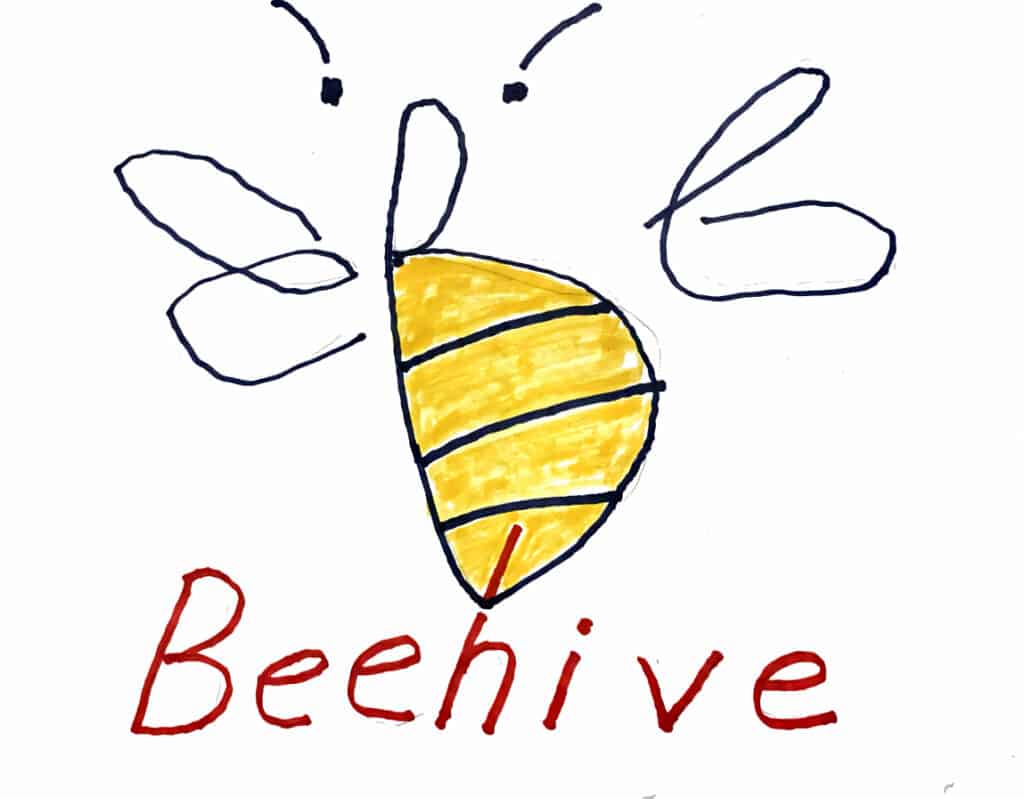 Judy said, "looking out at the crowd, I could see they shared my surprise and excitement. I was so shocked and excited I began to cry. We just didn't want the Beehive to go away."
Judy shared, "Steve and I moved to Hot Springs Village seven years ago from Texas, and two years later, the Beehive opened at 220 Minorca Road, conveniently just a mile from our house."
Judy said she and Steve always felt that the Beehive is a special place, and when Greg Jones announced he was selling, the uncertainty of the venue was upsetting.
"We found a special place where we made many new friends, had my Village Arts Project classes and book club meetings, and enjoyed great food and music. When we heard that the Beehive was going to be sold or closed, it upset us."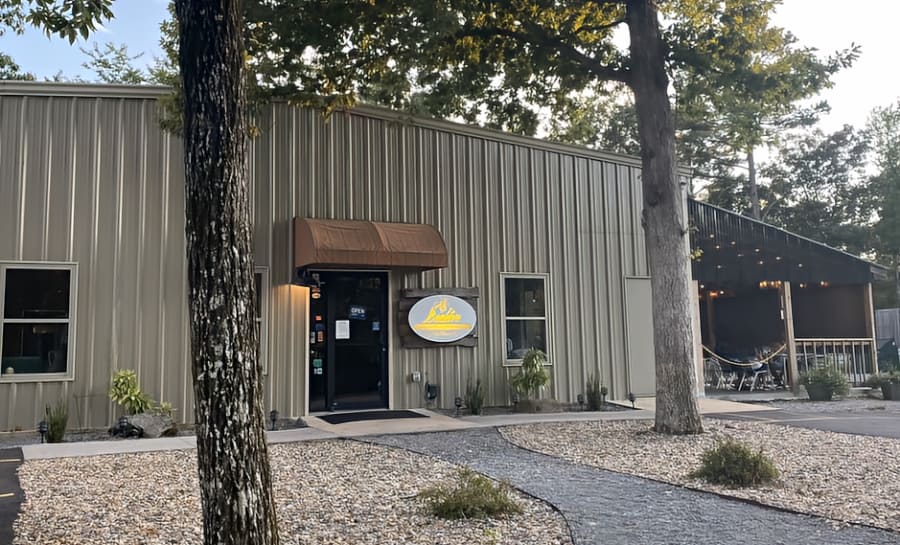 Food and Drink
The Beehive has a full liquor license and serves a wide variety of adult beverages in addition to soft drinks. Judy shared, "we have a full cocktail menu and a full bar. We are in the process of adding a larger variety of wines. We are working on having wine tastings with pairings on Wednesdays."
The industrious couple is in the process of tweaking the menu. Vegetarian selections are now offered. Judy said, "we serve a wonderful salad with fruit, nuts, and cheese if desired." The establishment features other salads in addition to a veggie burger known as the "Beyond Burger."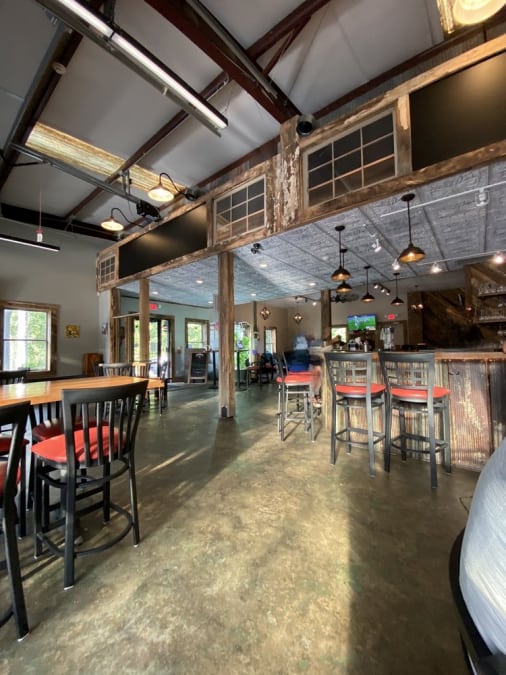 Entertainment
"We have an excellent and talented lineup of Arkansas musicians. The Beehive is a popular place for many musicians to perform because not only is it a cool atmosphere, but additionally, the musicians love the customers. Villagers are so generous, loving, and supportive, oftentimes offering to let the musicians stay with them or come for dinner before the gig or breakfast after," stated Judy. Music is featured on Friday and Saturday nights from 7:00 PM until close. There is a $5 cover charge on Saturday nights.
Since November 2022, the Village Arts Project has been working with the Beehive to offer monthly classes. The couple plans to continue this tradition by offering two classes a month. Various Village artists will conduct the classes.
For those patrons who like to dance, there is line dancing on Tuesday nights for six weeks.
Shamrockin' St. Patricks Day Party
On Friday, March 17, the Beehive will be celebrating St. Patrick's day by featuring a local band, "Encore." Encore is known for playing a wide variety of music. Green drinks and appetizer specials will also be served. A costume contest will be held for the "zaniest, greenest costume, and the best shamrock hat."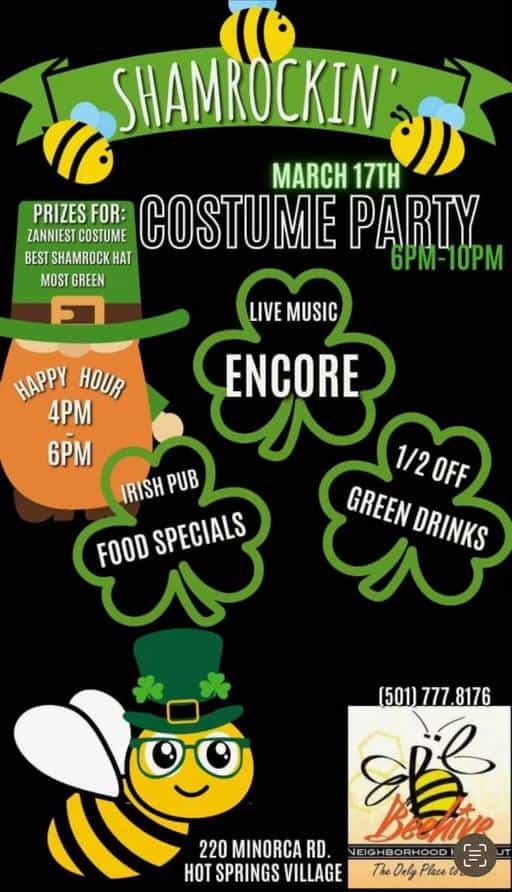 Beehive Days and Hours of Winter Operation
Tuesday and Wednesday – 4:00 PM to 9:00 PM
Thursday and Friday – 4:00 PM to 10:00 PM
Saturday – 4:00 PM to 11:00 PM
Closed on Sunday and Monday
The Nowaks are exploring the option of opening for special events (groups) during the daytime and may offer a "Farm to Table" event in the future. To rent out the venue for special events, please contact Judy at (817) 559-1558 or by email at [email protected].
"So many of our friends and complete strangers have offered their help and support.  We have many new and exciting things we will be doing, and we are here to have a good time," expressed Judy.
Click here to visit the Beehive website.
By Cheryl Dowden; Images Courtesy of Beehive and Steve Nowak