Left to right, Chris Boutzale, Wastewater Superintendent, and Ken Unger, Director of Public Services
Continuing to be true to their word, at the April 19 Annual Board meeting, the Hot Springs Village POA Board approved over 1.15 M for infrastructure repairs and updates.
In 2021 the Board of Directors vowed that if the assessment increase were passed, they would use the additional money for infrastructure repairs. (Click here to read the November 15, 2021, article "Hot Springs Village Assessment Increase Vote Passes." Cognizant of the Board's promise, the staff is working hard to catch up on deferred maintenance issues.
In addition, the Board approved $430,144 for a new Communication System for the Police Department and $184,349 for Golf Equipment. First, we shall address deferred infrastructure.
Road Preservation Program
On last Wednesday's agenda, Public Services Director Ken Unger presented the case for funding eight key deferred infrastructure issues. The first four motions revolved around the Road Preservation Program.
The first area is along Barcelona Road (approximately $300,000) – This stretch of road goes from DeSoto to Malaga Way. Reconstruction of the road surface will be done so this road is "crowned," allowing water runoff. (See Exhibit 1)
Exhibit 1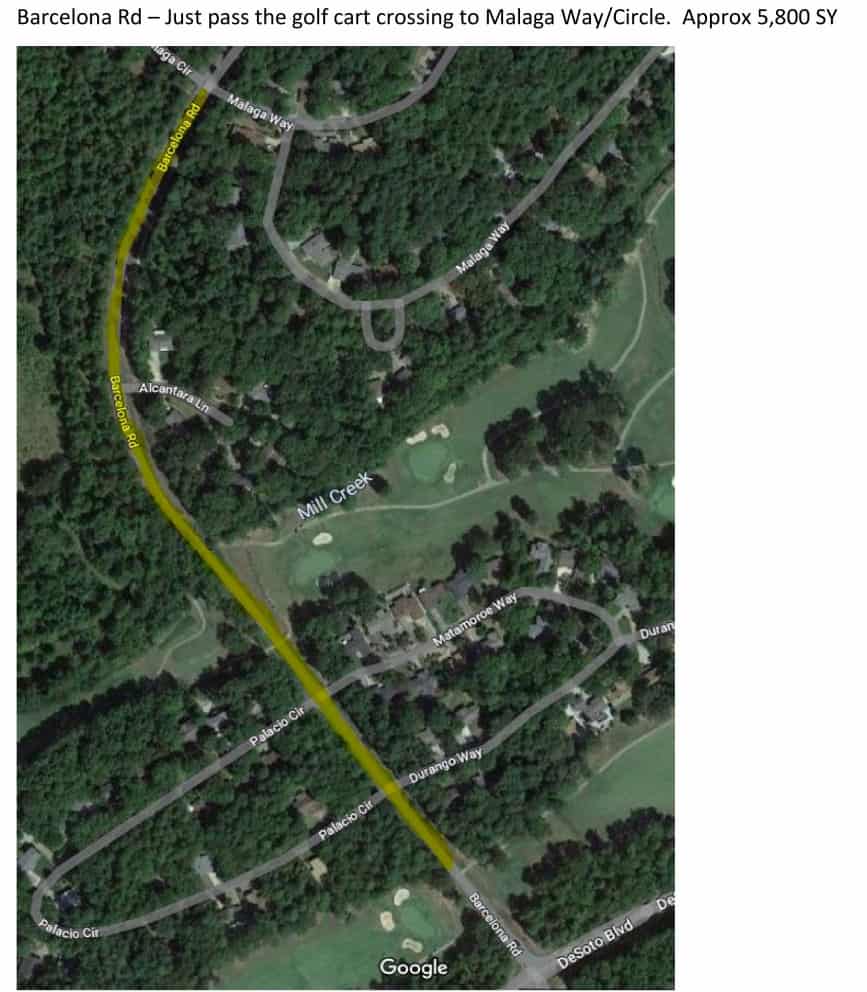 Unger said, "The next section is Ponderosa Way, over by the Fitness Center. Some areas are "super paved," which is peeling off.
"We will mill and replace that," stated Unger. (See Exhibit 2)
Exhibit 2
"We are going to hit certain areas along Baelearic Road," said the Director. "We are going to take care of the worst areas that we cannot patch," stated Unger. (See Exhibit 3)
Exhibit 3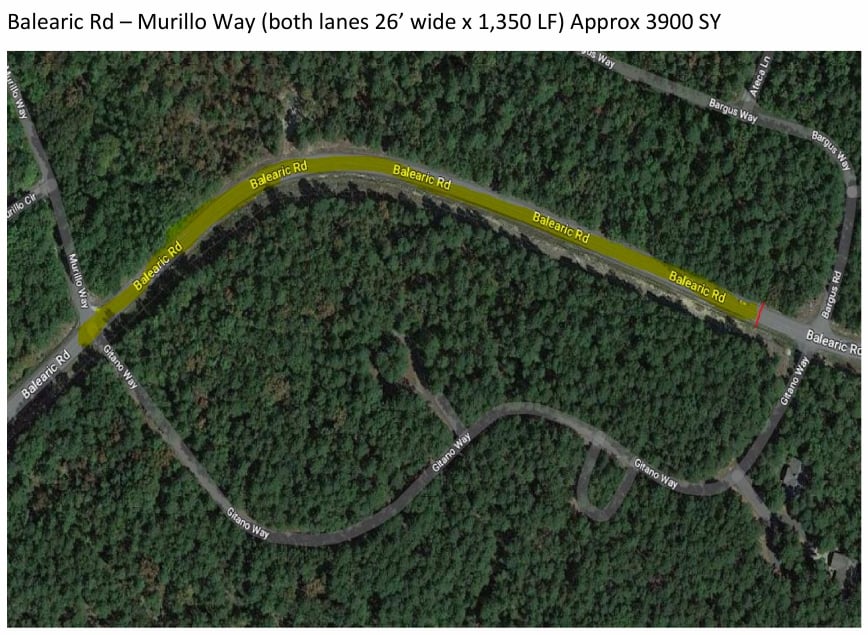 Maderas Drive Rehabilitation Project – We are trying a new process called "full-depth reclamation," in order to strengthen the base of the road, while overlaying it. "This process will mill off the top two-inch layer of pavement from DeSoto back to Poema Lane or Alhaja Lane," explained Unger. All of the existing material will be churned up, adding cement. This will then be rolled out and allowed to dry. It should become like a concrete surface, about 12 inches thick," stated Unger.
Unger said, "Then we will put two inches back on top. We expect this will take a couple of weeks to implement and we are preparing detour routes. We are prepping the detour routes with gravel. If you see us out there, that is what we are doing so the traffic can more easily move through those roads during the detour. If this process works as we expect, we will be implementing this throughout the rest of Maderas and other areas around the Village where we have a poor sub-base, at approximately a 30% savings over the reconstruction of the road from scratch. Plus, this reduces the amount of truck traffic because we are not hauling materials in. We are churning up what is there and adding cement to it." (See Exhibit 4)
Exhibit 4
Scrub seal (fog seal) on the balance of Barcelona Road – "We will be doing the balance of the sections on Barcelona Road (South) and Barcelona Road (North) that were not completed last year due to funding. That entire road will be restriped. It was crack-sealed several years ago, so this will preserve it. It is oxidizing right now and the lines are basically nonexistent. Basically, we will be seal-coating this and then restriping the entire roadway." (See Exhibits 5, 6, and 7)
Exhibit 5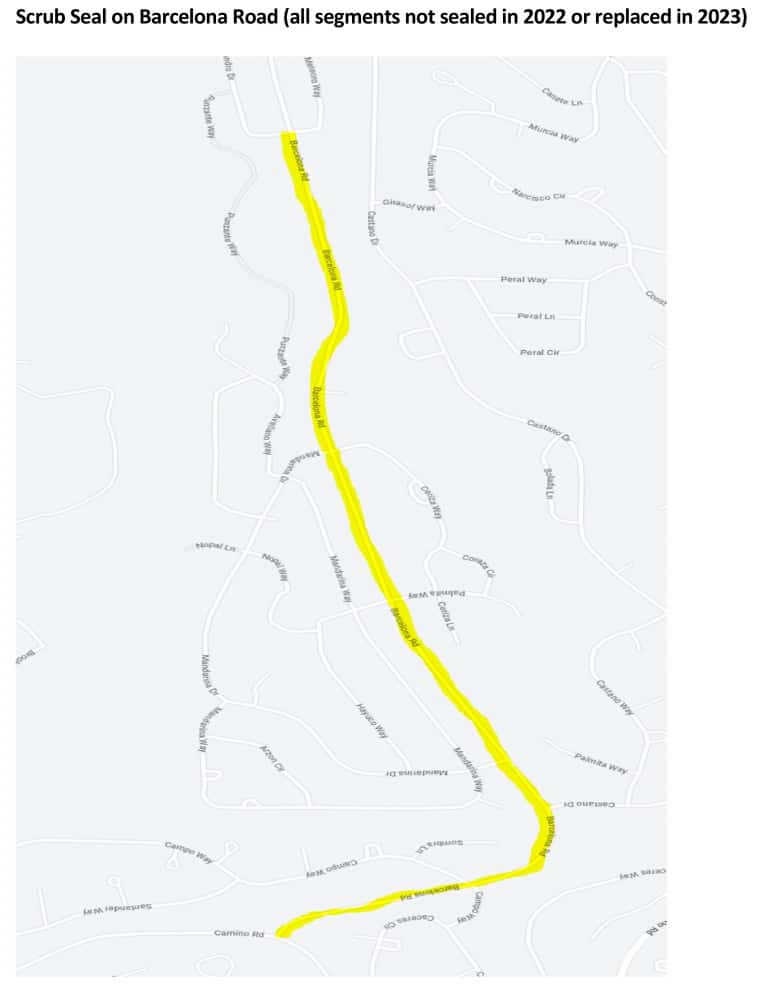 Exhibit 6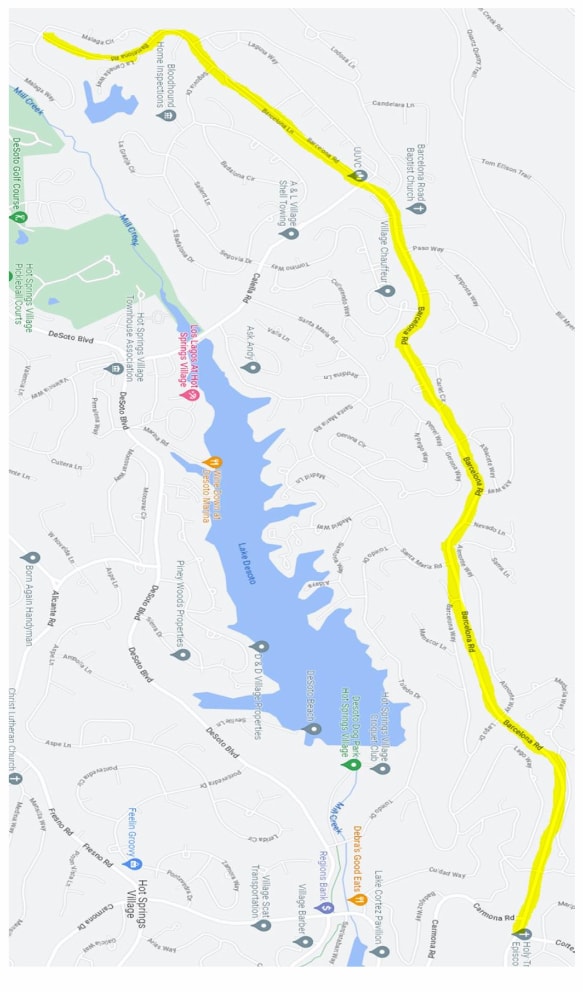 Exhibit 7
General Manager Kelly Hale said they do not take spending this much money lightly and have reviewed the details for months.
Unger said, "We will have about $100,000 left in the budget after all this road preservation work is approved and implemented." The leftover amount will probably be applied to crack sealing, pending Board approval.
Reconstruction of two Sewer Lift Stations
The Board Brief said that Board approval was given for reconstructing two lift stations, which deteriorated beyond repair. The bidder agreed to reduce the bid on one of the lift stations if the POA Public Services Department handles the demolition of the existing lift station, which they have agreed to do."
"The lift stations are about 50% over budget. We only had $100,000 slated for each lift station. We compensated by changes we are making on the third lift station we are attempting to address this year – the Calella Station. We are going to use the
$185,000 slated to supplement the cost for these two and self-perform on one of the other ones that we can do (and replace it ourselves)," explained Unger.
"We will still get three lift stations done…," stated Unger.
The General Manager said that these are some of the original lift stations. They are constructed out of concrete and are failing due to methane gas corroding the concrete. They will be replaced with a polymer.
Conversion of Chlorine Gas Water Treatment to Sodium Hypochlorite Treatment at Water Plant
In addition, the Board approved a bid contract to convert our chlorine gas water treatment system to a sodium hypochlorite treatment system at the Water Plant.
The Board Brief shared that the Public Services Department has been planning to convert our chlorine gas treatment system at our Water Plant to a sodium hypochlorite system for the last year. This type of chlorine delivery system to our water supply is a more stable and safe system for the Public Services Department to manage and safer for the community. The amount approved by the Board was $318,053. The 2023 amount budgeted for this conversion from chlorine gas to sodium hypochlorite was $260,000. The shortfall will be covered by capital funds originally allocated to two other projects that were re-evaluated and are being handled differently.
Unger said, "Our Lead Water Plant Operator went through this process in Hot Springs. We have experience. I am confident we are in good hands."
Replacement of Failing Water Main
In addition, the Board approved a competitive bid to replace a portion of the water main along Pontevedra Drive and install a length of new water main along Carmona Road to improve our water system redundancy in that area. The low bid of $279,000 was approved.
Unger said, "To improve our water system, we are designing multiple water line replacements in areas where we have seen repeated failure and major water loss across the Village."
"We can 'kill two birds with one stone' with this project. A section of the water line on Pontevedra Drive has repeatedly failed for years, causing major disruption to the community. There is also a section of that line that is nonexistent, from Pontevedra and Carmona, down to Fresno, that when we have outages in that area, we lose major sections [loss of water to many homes] as a result of the lack of that line."
Police Department Communication System
The Board voted to replace the antiquated Police Department communication system. The HSV Police Department was working with 50-year-old communication equipment, which no longer connected with law enforcement officials outside of the Village. The new equipment offers better 911 response and increased officer safety.
As should be expected after 50 years, the technology for this type of communication equipment has improved significantly, making it possible for our Police Department to be much more effective. "Of considerable importance, the new equipment will meet or exceed the specifications of the mandated statewide Next Generation 911 plan."
Per the Board Brief email recently circulated, "the new total communication system provides the following benefits:
· "Allows for mobile reporting and communications.
· "Allows for communication with the public safety equipment of communities outside the Village.
· "Eliminates approximately $18,200 in maintenance costs for the old equipment.
· "Replaces the need for approximately $100,200 in upgrades to the old system."
Noted Police Chief Kristi Bennett, "The thing about this Motorola proposal is that it is a one-stop shop, that we can get everything inclusive…This will provide our members the very best possible…"
General Manager Kelly Hale added, "The current system uses old copper wiring. To put this in simple terms, we are going from analog to digital."
Board Member Bruce Caverly said, "The current system we have is fifty years old, and it costs about $125,000 a year to maintain it if we can even get the parts."
The Board Brief said, "The new system will be purchased utilizing two payments of $215,072 each, one on May 1, 2023, and the second on May 1, 2024, after installation. This payment structure will save Hot Springs Village about $137,000 in financing fees. And most importantly, this system will greatly increase the public safety effectiveness for the residents of HSV."
Golf Department Equipment
Additionally, the Board approved funds Golf Director Tom Heffer requested to replace five pieces of equipment.
The budgeted amount for these items was $196,000. Heffer said, "We had to get creative and we recommend a used John Deer for $59,000 instead of $111,000 for a new one. It has 700 hours which is very low." This unit is a Bella Vista lease turn-in, which means it has been well-maintained.
Heffer said we are $3,000 over budget on the two bunker rakes. There was a 12% increase across the board on equipment, if there is even availability due to inconsistent supply chain issues. Two utility carts were also approved. "They are hard to get ahold of, but we need them desperately," explained Heffer. Heffer recommends purchasing one new and one used cart. The five total units come in 6% under budget.
The Board Brief provided further detail, "The purchases approved by the Board for the Golf Department include a used 2019 John Deere Fairway Mower for $59,850 (which is $14,850 below budget), two John Deere bunker rakes for $49,199.22, a new John Deere Pro Gator for $44,306.10, and a used 2018 Pro Gator for $30,993.75 for a total purchase price of $184,349.07, which is almost $12,000 under budget."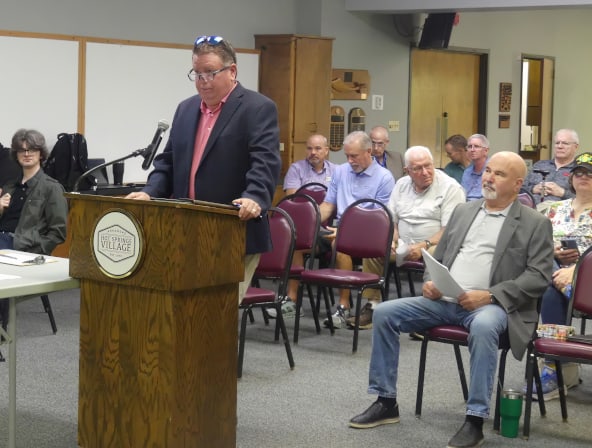 By Cheryl Dowden
CONTACT INFORMATION FOR PUBLIC SERVICES DIRECTOR
Ken Unger
Director Public Services
Hot Springs Village
501-226-9609
[email protected]