In a letter of apology from Randy Everett, Connect2First's General Manager, the company admits it failed to meet its goals in Hot Springs Village. Connect2First notified its HSV customers that they are "unable to meet the timeline initially communicated for supplying all HSV First Electric Cooperative Customers high-speed fiber optic internet. First Electric is the electric provider mainly for the Saline County portion of the Village.
The company stated the terrain was considered "when the project was designed and engineered." At a meeting with Villagers in November 2021, Connect2First said the project would take two and a half years from start to finish. The project budget was based on this estimated initial time frame.
After 17 months into the project, the company has admitted they only have service available for 300 customers. An additional 300 customers will be offered service in May, meeting only a small portion of promised internet service to over 4,000 accounts.
The company said they are pausing the project to "re-evaluate the overall strategy." GM Everett asks for patience as the company regroups to review the engineering and overall project cost. Everett said, "We will work to deliver you the results of the plan by late summer."
Click here to read "HSVPOA BOARD UPDATE ON 1ST ELECTRIC INTERNET PROJECT."
Click here to read Bob LeMay's article "CONNECT2FIRST PRESENTATION TO HOT SPRINGS VILLAGE."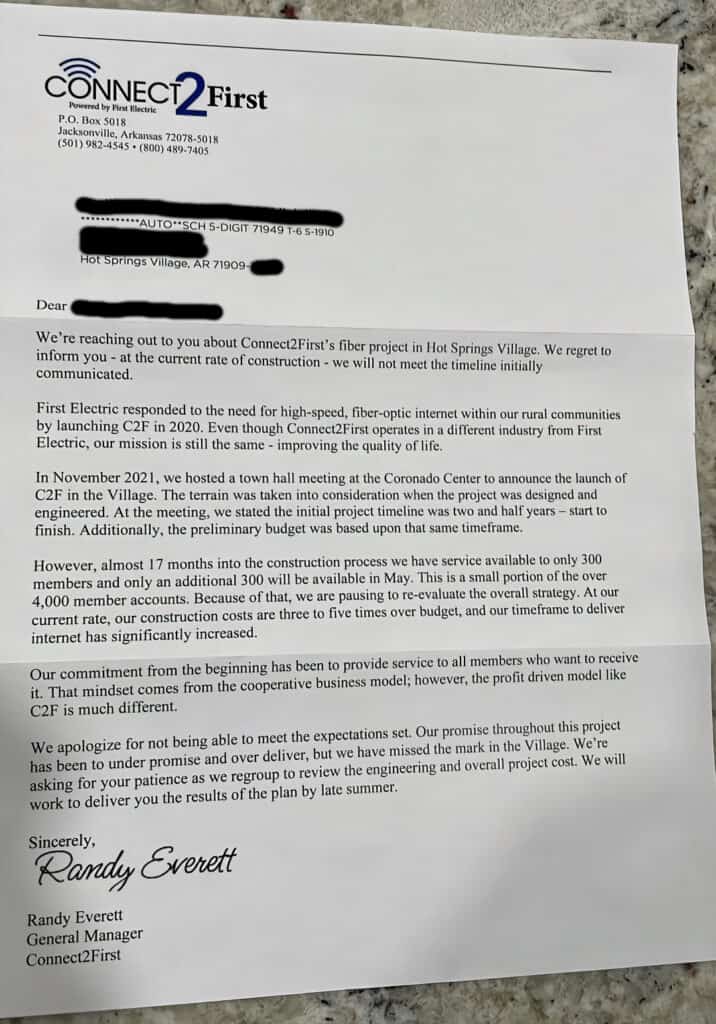 By Cheryl Dowden